Study Support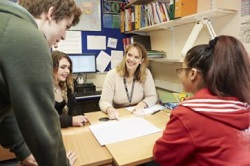 The Study Support Department offers specialist help to students who need additional support throughout their time at College. This is available for students with specific learning differences, physical or sensory impairments, medical conditions or emotional difficulties. The college is well equipped and we aim to ensure that you take a full part in college life.
Support may take the form of specialist teaching, in-class support, individual sessions or access arrangements for examinations. Please note that any examinations arrangements you had at school for GCSE may not automatically be continued. Up-to-date evidence is needed by the Exam Boards and will be discussed with you on commencing college if you have told us during the application process that you have examination access arrangements.
Equipment loans are available where a need has been identified; for example, laptops for use in class.
It is important that we are told on during the application and enrolment process if a student requires any support, so that we can organise this before arrival.
The College Nurse is available during college hours for helpful advice and in case of an emergency.
If a student requires temporary support, for example they have a broken leg, arrangements can be made to make life easier.
During a student's course they may be referred to the department by a teacher or they may refer themselves at any time. Appointments are sent by college email, so it is essential that students regularly log in to their account.