Applying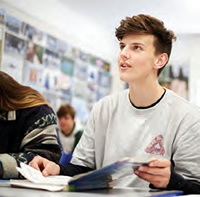 Welcome to Peter Symonds College! We are delighted that you are considering applying to study with us.
We consider applications from all students and provided we have an appropriate course, hope to be able to offer them a place. Although applications are not considered on a first come first served basis, it is important to apply before the deadline. 1:1 Guidance meetings take place between October and March.
If, when you apply, you are unsure which subjects you would like to study please don't worry! All course choices remain provisional until enrolment, at the end of August, when you will have received your GCSE results. To help with your course choices you will also have an opportunity to attend Welcome Day where you will try lessons in the subjects you are interested in studying. More information regarding individual subjects can be found on our 16-19 Course pages.
If you have any queries please don't hesitate to contact the Admissions Team.
The Application Process
The application process is split into a number of distinct stages so that you don't have to give us all your details at once. We have built in safeguards to ensure that the details you supply us with is correct and up to date. The diagram below shows these stages: