Student Services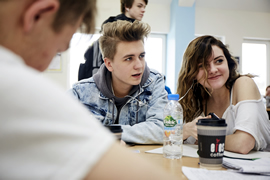 Student Services can be found in the Common Room on the first floor of the Paul Woodhouse Centre. We run a friendly, approachable counter service and are open from 8.30 to 16.45 each day during term time. We are always happy to see students, even if it's just pointing you in the right direction or if you feel you don't know where else to go. Though we provide over forty different services and support to students these are some of those most frequently asked about:
16 - 19 Bursary
Students who have difficulty meeting the specific financial costs of attending college may be eligible for financial help from the 16-19 Bursary. This is a cash-limited fund available to help with travel costs, books, equipment and UK trips. Generally, households whose income is £30,000 or under are eligible to apply but special circumstances can be taken into consideration. Application forms to the 16-19 Bursary can be collected from Student Services or downloaded from our Intranet page, once you have enrolled at college. You are welcome to contact us to discuss this further. We also oversee the free college meals programme, and have a second hand bookshop that allows students to purchase and re-sell textbooks at discounted prices.
Free College meals
Free College meals can be applied for, if the student meets the Government set criteria. It's easy to apply and worth trying even if you are not sure if you are eligible. Applications can be made once the student has enrolled at the college, please click on the link below to apply:
Students currently have up to £3.50 per day to spend at any of the catering outlets on-site.
Vulnerable Student Bursary
You will be eligible for a bursary of up to £1,200 if:
You are looked after (in care);
You are a care leaver;
You are a parent or living independently and in receipt of Income Support (Universal Credit) in your name;
You are in receipt of Disability Living Allowance (DLA) in your name and either Employment and Support Allowance (ESA) or Universal Credit;
You are in receipt of Personal Independence Payment (PIP) in your name and either ESA or Universal Credit
Students' attendance and academic record will be taken into account when applications for financial assistance are considered.
Health and Wellbeing
Student Services can offer a private space in which you can discuss more personal matters. We can give advice on housing problems, childcare issues, or any situation that you are finding difficult to manage at college. Students who are looked after by the local authority, or who have a caring responsibility at home are able to receive specific support, should you wish. Speak to staff in Student Services at any time.
Also part of the Student Services provision is The Hub, which is our emotional health and well-being service at college. Students can come to the Hub for advice on anything from sleep difficulties to specific mental health conditions. We also have a Counselling service based in college which students are able to self-refer to. We work with other agencies to offer services such as a sexual health clinic which is run once a week by an NHS practitioner, advice from Catch 22 and excellent links with local Young Carer projects.
Student Travel (Rail and Bus Passes)
Bus Travel
We do not run our own bus service into college, however, we do liaise with both Stagecoach and Bluestar to ensure buses run in line with our timetable with many buses coming into the college.
Both companies offer student discounted tickets that can be purchased directly from their website or app. Daily and weekly tickets are also available on the bus. Please note that some of the bus routes only run during term time.
Stagecoach – Click below to view map of current routes, timetable and ticket prices.
Bluestar run the No1 from Southampton to Winchester. Please click on the links below to see relevant information.
Rail travel
Students can purchase a 16-17 Saver card, which gives students a 50% discount on all rail fares, including season tickets. You can buy a 16-17 Saver on the link below. The cost is £30 and is valid for one year or until your 18th birthday, whichever comes first.
You can then choose whether you buy daily, weekly, or a season ticket for a half or full term, but the greatest savings will be made on tickets that are valid for the longest period. Tickets are then purchased direct from the train companies.
The 16-17 saver card can be used on all rail travel, not just travelling to College!
To get an idea of ticket prices, you can use the season ticket calculator here. As long as you select dates longer than a month you can customise the ticket to exact dates you require (termly). Be sure to select '16-17 saver' under the Railcard section:
Rail Travel 18+
Once you turn 18, Scholar Season tickets are available to purchase termly, through the online college shop or parent portal, and represent a 34% discount on the price of a normal season ticket.
Motorcycle parking permits and bicycle pods
Student services also look after Motorcycle parking permits and the Bicycle shelter/pods at college.