Open Evenings: October 2021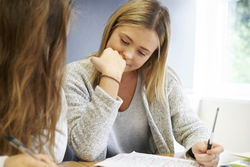 Staff and students at Peter Symonds are delighted to invite prospective students to our Open Evenings, which are being held at the campus.
Booking is required. Please book one ticket for each person attending the event.
Simply click on the dates below to book your ticket/s.
Students and their families will have the opportunity to find out more about all aspects of college life with an impressive collection of resources to help you learn more about what studying at Peter Symonds is all about.
This is a great opportunity to take a look around our impressive facilities, meet staff and current students and discover more about the courses and enrichment activities available for students starting in September 2022.
Principal's Presentation
There will be three Principal's Presentations each evening and booking is also required for these. Simply click on the time you'd like to attend below to book your ticket/s
Monday 18th October at 5.45pm, 6.30pm and 7.15pm
Tuesday 19th October at 5.45pm, 6.30pm and 7.15pm
As numbers are limited the presentations will also be live streamed into the Science Lecture Theatre at the same time. Alternatively a recording will be published on our website after the events.
For more information about Peter Symonds, click on the links below.