Magical March for Women's Rugby
Magical March for Women's Rugby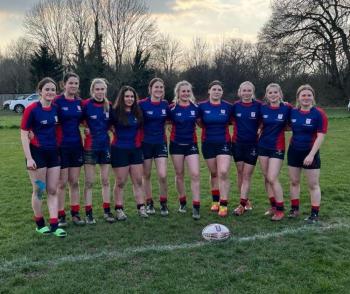 By Mike Marchant, Head of Rugby at Peter Symonds College
March 2022 really has been a special month for Women's Rugby at Peter Symonds College. The team were invited to celebrate International Women's day with students from the University Technical College Portsmouth by Hampshire Schools RFU to play in the inaugural Women's Presidents 7s competition. In this first year there were only two schools or colleges within Hampshire that were able to field sides, but with the growth of the Women's game it's hoped that these first steps will open the door to greater levels of participation and competition over the coming seasons.
There could not have been a better advert for rugby than the opening minute which saw the gifted Eliza Manning kick off to launch the tournament, quickly receiving a try scoring pass provided by Gabriela Della-Savina, whose left-handed off load would have been applauded on any stage. Within the opening minute Manning was lining the ball up for the first of a number of conversions.
Peter Symonds Rugby Coach Tom Wilkinson said, "It was a historic and momentous occasion as the team kicked off the first Women's Hampshire 7's match. They really showed how far and fast girls' and women's rugby has progressed in schools and colleges over recent years. From the defensive press and aggression in the rucks, to the accuracy of passing to expose the space out wide. The players have worked hard all year and they fully deserve the recognition for all their efforts."
Peter Symonds went on to win the tournament despite some courageous and spirited play from the University Technical College.
Peter Symonds had a double celebration as the boys were not to be outdone, joining the girls on the winner's rostrum having won all of their games in the Under 18s Men's competition, thereby winning the President's 7s Millennium Age Cup, making it a clean sweep for Peter Symonds rugby.
For the Women's team it was a positive start with so much more to come. The following week ten of the Peter Symonds Squad were selected for the Hampshire Under 18 fixtures against Sussex, Kent and Surrey. Harriet Millar, Abigail Duxbury, Morgan Burke, Georgia Molton, Gabriela Della-Savina, Daisy Heap, Carys Graham, Florence Neller, Cara Ottaway and Daisy Farmer all made the jump from Symonds to the Hampshire squad.
The penultimate week of March played host to the Rosslyn Park 7s Festival. As the World's largest school rugby tournament playing in it has been an aspiration of many players over the decades from the Men's and Women's games. An array of academy and university selectors attended Finals Day, looking for the potential stars of the future.
Following a win in their opening game and then a defeat by a well-trained Exeter College side the PSC Women's Team re-grouped and set their sights on the Plate competition. They cruised past Wellington School, Cardinal Newman School and Millfield School to win the Roslyn Park Under 18 girls Plate Competition.
PSC student Emily Blackburn was voted Player's Player of the tournament and was also recognised by a member of the Harlequins Rugby Centre of Excellence staff. In recognition of her performance Emily has been invited to attend sessions with the Tyrells Premiership Centre of Excellence group during their summer and pre-season preparation.
The conclusion to a month of brilliant rugby could not have been rounded off more fittingly than with a win in the Women's team's final game during a round robin tournament played on Wednesday 28 March in Reigate.
Mike Marchant: Head of Rugby at Peter Symonds said, "This has been a really special month and being able to promote Women's rugby during a Women's Six Nations Campaign and in a World Cup Year has been an exciting opportunity. We knew that with International Women's Day being so close to the Presidents 7s Day, if we could raise awareness of the competitions this year, we could raise future expectations and participation."
For further information about this article or the college in general, please contact our Marketing department by telephone on 01962 857553 or by email marketing@psc.ac.uk.