Top 10 finish in the BHF and Imperial College 'Science at Heart' Competition for Future Medics
Top 10 finish in the BHF and Imperial College 'Science at Heart' Competition for Future Medics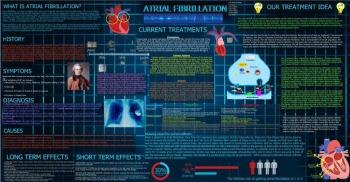 Six Peter Symonds College students are celebrating a top 10 finish in the British Heart Foundation and Imperial College 'Science at Heart' Poster Competition.
Teams of up to six students were invited to design an ePoster to illustrate a strategy for bringing hard sciences and biomedicine together to reduce the number of deaths and disabilities caused by heart and circulatory disease.
Upper Sixth students Emily Weeks, Ariyan Hoque, Tom Bowyer, Maisie Sheffield, Lottie Hatherell and Nandana Rajeev took part in the competition launched by the BHF Centre of Research Excellence at Imperial College London which aimed to engage sixth form students with cardiovascular research.
The Peter Symonds students created the poster in the summer of 2021 and were then selected to give an online presentation, after being placed in the top 10 out of nearly 50 competitors. The team were congratulated for their contribution by Professor Dorian Haskard at Imperial College.
All six students from Peter Symonds also run the college's biggest student-led enrichment activity, 'Future Medics', designed to prepare, support and encourage students aiming to study medicine at university.
Speaking about the experience, student Ariyan Hoque said "It was a great activity to do together as a team, given that we would need to work together to run Future Medics this term."
Maisie Sheffield added, 'It gave us a great insight in the process of carrying out research and will be really beneficial when we move on to study at university."
For further information about this article or the college in general, please contact our Marketing department by telephone on 01962 857553 or by email marketing@psc.ac.uk.