College takes first steps towards becoming an All Steinway School
College takes first steps towards becoming an All Steinway School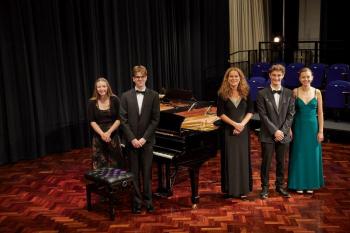 Music Department staff and students at Peter Symonds College were delighted to take delivery of a brand-new Steinway Model B grand piano and four upright pianos as part of the College's ambition to become an All Steinway School.
Following a donation from the Mercers Company the College has purchased a new Steinway Model B grand piano and four new upright Steinway pianos to replace some of the older pianos in the Music Department. Dr Samantha Carrasco, Head of Keyboard at the College, has been spearheading the project for some time.
With the arrival of the new pianos Peter Symonds College is eligible to join the Steinway Initiative with a view to becoming an All Steinway School in the future. If this ambition is achieved Peter Symonds will be the first state school in the country to become an All Steinway School.
The new pianos were unveiled at a special concert featuring Peter Symonds music students Zosia Pilsworth, Hanna Csermely, Archie McMorran and Archie Thornton, who played a range of pieces accompanied by Dr Carrasco.
Student performer Hanna Csermely commented, "Steinway pianos allow students to develop certain aspects of their playing better than on other pianos – for example, a larger tonal variety allows you to really work on bringing out the different tonal colours of a piece.
"This initiative is really exciting for Music students at the College," Hanna continued. "You usually see pianos of this high quality at conservatoires and private institutions so it will open so many doors for students at Peter Symonds, offering opportunities they wouldn't get elsewhere."
Dr Samantha Carrasco said, "The new Steinway pianos will be a fantastic addition to the Music Department offering even more musical and performance opportunities for our talented students whilst upgrading our practice facilities.
"We are really excited to be joining the Steinway Initiative and the new pianos will make an enormous difference for the students," she added. "The success of the recent Steinway celebration concert highlighted the dedication and skill of the pianists at Peter Symonds College."
As an All Steinway School pupils will perform on Steinway instruments and have regular masterclasses with Steinway artists and the opportunity to perform in the recital space at London's Steinway Hall. The arrival of the five pianos was marked by a world premiere and recording of a piece entitled Lockdown Reflections by student Archie McMorran, who is going to study composition at Trinity Laban next year.
World-renowned jazz pianist composer, broadcaster and author Julian Joseph also attended the concert, having previously accompanied College Principal Sara Russell and Dr Carrasco to the Steinway showrooms in London to help them select the new grand piano.
Mr Joseph said, "The pianists in the Peter Symonds music programme gave confident and exuberant performances supported by their excellent teachers for the most positive way to start the new term, uplifted by the beautiful brand-new Steinway piano acquired by the college. It was such a pleasure and joy to listen, enjoy and experience live music again in this environment of excellence."
Head of Music Rachel Platt concluded "This is an amazing opportunity for our pianists. Dr Carrasco's ambition, enthusiasm and inspiring teaching has made this project possible. We are immensely privileged to have the guidance of Julian Joseph and grateful to the Mercers for their financial support and our Principal Sara Russell for helping to drive the project through. We are incredibly thankful to Steinway for every opportunity they have made available to us, all of which will be a superb legacy for our students for many years to come."
Please click on the link below to watch a short video with more information on the College's Steinway School intiative.
For further information about this article or the college in general, please contact our Marketing department by telephone on 01962 857553 or by email marketing@psc.ac.uk.