Congratulations to the PSC Class of 2021
Congratulations to the PSC Class of 2021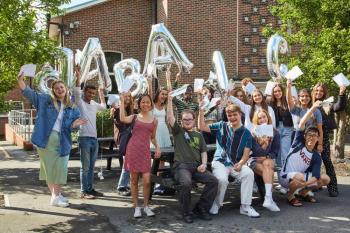 Congratulations to the PSC Class of 2021
We are delighted that A level and vocational qualification results at Peter Symonds College for 2021 are outstanding. The pass rate for A level stands at 99% with over two-thirds of grades awarded (68%) being at A*-B.
The pass rate for vocation courses is over 99%, with 75% of grades awarded at Distinction or above.
Overall statistics
Results for 2021 at Peter Symonds College are as follows:
A Level Pass rate: 99% A Level Grades A*-C: 86% A Level Grades A*-B: 68%
Vocational course pass rate: 99% Distinction or higher: 75%
Highlights
Over two thirds of A level grades were either A*, A or B: the very top grades needed to get into the best universities.
146 students were awarded A* in Maths A level – PSC is one of the largest centres for A level Maths
421 students successfully completed an EPQ: 160 with an A* and 152 A grade
Principal Sara Russell said:
"This year's Upper Sixth leavers have had an extraordinary experience and have achieved amazing grades in the face of the challenges thrown at them. Our class of 2021 have had a College experience like no other year group. In different ways, all our students have been impacted by COVID19, but they have not allowed the pandemic to curtail their progress or limit their future ambitions.
"They have shown incredible resilience and commitment over their time at Symonds, demonstrating record attendance levels which have been maintained throughout lockdown, which is particularly impressive.
"The grades these students have been awarded have been judged on the quality of the work they have produced and are a well-deserved, accurate reflection of each student's ability. We have a high level of expertise in the staff body at Symonds, enabling us to ensure a robust and fair process was put in place to award student grades.
"Lockdown inevitably caused much anxiety for students but we felt it was important to maximise their access to face to face teaching to ensure when out of lockdown students had full contact for their lessons and support services. It was extremely important to us to keep our mental health support services running, including the award-winning Hub drop in mental health service, and our pastoral team worked closely with all students needing support throughout lockdown.
"We would like to congratulate each and every one of our students for coming through such a challenging experience with determination, focus and ambition. We are delighted to celebrate a fantastic and richly deserved set of results."
Student stories
Student Milosz Kowalski, who formerly attended Bitterne Park School, achieved A* grades in History, French and Sociology A Levels and an A* in his Extended Project Qualification. He is celebrating a place on the Human Social and Political Sciences course at Fitzwilliam College, Cambridge. Milosz said "As someone from a working-class, migrant background, it was sometimes difficult to see myself at Cambridge, but the supportive atmosphere at Symonds made me feel that truly anyone can succeed. The HE+ programme inspired me to go beyond the curriculum, a key aspect of my Cambridge application, while being surrounded by ambitious peers kept me motivated and engaged. Working hard during the pandemic was difficult, but having such a wonderful final goal in sight was extremely helpful!"
Jonathan Frizell joined Peter Symonds College in 2018 from Henry Beaufort School on a Level 2 programme of Maths, English and Media Studies. On completion of his Level 2 studies he moved on to study A Level History and a Digital Media Diploma at Peter Symonds. Jonathan is celebrating achieving a D in History and D*D* in Digital Media. He said "It's been a long three years, I can't believe it's over! I'm really pleased with my results and looking forward to my next step, which is a place on Project Choice, a year long work experience placement taking place at Hampshire Hospital."
Millie Smith is looking forward to taking up an apprenticeship with PwC in Cambridge at the end of the summer. She said "It's been a real period of growth, I've become much more independent here. I managed to get into a good routine during lock down balancing exercise and work which helped me keep studying. I'm relieved, super happy and excited for my next steps."
Maisie Harris achieved D*D* in Health and Social Care and an A grade in Medical Science from Peter Symonds College, alongside working in a nursing home throughout her studies. Although self-isolating at home on Results Day, Maisie said, "When the pandemic hit, I was still studying as well as working many more hours, some weeks more than the usual full-time hours. Peter Symonds was brilliant in accommodating timetable changes to allow me to continue to work and gain a full education during online schooling. I also felt as though I was supported psychologically with regard to the challenges of the pandemic and caring for positive COVID-19 patients. I was pleased with my A-Level results, as the masses of effort by myself and the college have allowed me to gain the best knowledge I can in order to expand my career into nursing and hopefully more specifically cardiology."
For further information about this article or the college in general, please contact our Marketing department by telephone on 01962 857553 or by email marketing@psc.ac.uk.