College theatre company goes virtual
College theatre company goes virtual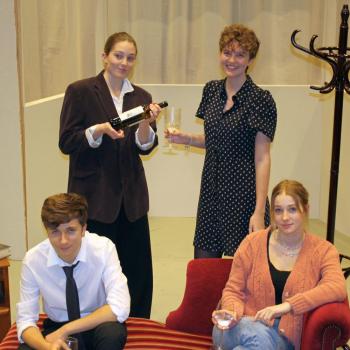 Peter Symonds College's student-led theatre troupe, A Company of Fools, is launching its first virtual performance on 28 May. The production will be 'The Rule of Three.'
'The Rule of Three' is a collection of three short pieces, two of which are short plays by Agatha Christie, 'The Patient' and 'The Rats', along with a short film called 'When the Curtain Fell,' highlighting the importance of protecting the arts after COVID-19.
The performance will take place after exams and once the show goes live on 28 May patrons can watch the show at a time that suits them best. The link to book tickets is www.psc.ac.uk/cof
The production has been completely student-led, from choosing the plays, running auditions and designing the set to choosing costumes and props and scheduling rehearsals. Artistic Director Libby Rhodes and Creative Director Sam Hunt came up with the idea of including 'When The Curtain Fell' which gives an insight into the power of the arts and they will also be filming and editing the performances themselves.
Libby said 'All of the Cast and Creatives have a passion for the arts and love the theatre. Many of them are hoping to go on to Drama School and pursue a career in the theatre so this has been an excellent opportunity for them to gain experience and work alongside other talented creatives! It's also a great opportunity to grow in confidence and make friends for life.
Talking about some of the challenges the production has faced she said, 'We started auditioning nearly one hundred students in September and were hoping to perform to a live audience in December however, due to COVID-19 we will now be filming the performances and putting them online.
'It has been incredible to witness the dedication, commitment and enthusiasm of all the Casts and Creatives, especially considering the challenging circumstances. Everyone has remained passionate and creative during rehearsals both online and in person and have worked hard to put on two fabulous performances. We have all had to be very adaptable and focused and I am very proud of how understanding and motivated everyone has been throughout the entire process.'
This is the first time ever that A Company of Fools have produced a virtual production. Tickets are available from www.psc.ac.uk/cof. Tickets are free but Company of Fools would be delighted to receive donations to www.ActingforOthers.co.uk, a charity providing financial and emotional support to creative professionals who have been hit hard by the effects of the pandemic. The performances will go live on Friday, 28 May 2021 and can be watched at a time that suits you best.
For further information about this article or the college in general, please contact our Marketing department by telephone on 01962 857553 or by email marketing@psc.ac.uk.