College shortlisted for Tes Awards 2021
College shortlisted for Tes Awards 2021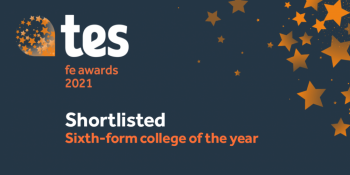 Peter Symonds College is celebrating after being shortlisted for the Sixth Form College of the Year in the 2021 Tes FE Awards, which recognises the most outstanding individuals and institutions that the further education sector has to offer.
Peter Symonds Principal Sara Russell said, 'Just to be shortlisted for a Tes Award is an incredible achievement and reflects the hard work and dedication of our staff, who have continued to deliver outstanding teaching and academic and pastoral support to our students during what has been an incredibly challenging period.'
Sara added, 'I'm thrilled that these efforts have been recognised nationally.'
Peter Symonds College's submission for College of the Year Award focused the quality of the support available for students, including details of the Hub, the College's initiative to support students' mental health and wellbeing.
The submission also highlighted the College's exceptional Enrichment programme, which offers students a range of over 170 activities to choose from, and the remarkable outcomes for young people at the College, from high retention rates and better than expected grades through to progression to top Oxbridge colleges, Russell Group universities and prestigious music conservatoires.
Tes head of FE Julia Belgutay said: 'Further education providers have excelled in what has been a truly challenging year, and the amazing individuals, teams and institutions on our Tes FE Awards shortlist showcase that. Our judges were highly impressed with the calibre of entries and I want to congratulate everyone who has made the shortlist – it is a brilliant achievement.'
Winners will be announced during a virtual awards ceremony on Friday 28 May 2021.
For further information about this article or the college in general, please contact our Marketing department by telephone on 01962 857553 or by email marketing@psc.ac.uk.