On-site Covid-19 testing programme completes 11,000 tests
On-site Covid-19 testing programme completes 11,000 tests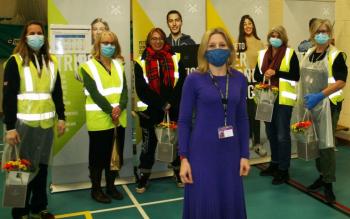 The on-site Covid-19 mass testing process at Peter Symonds College has come to a close, with approximately 11,000 lateral flow tests having been undertaken by students.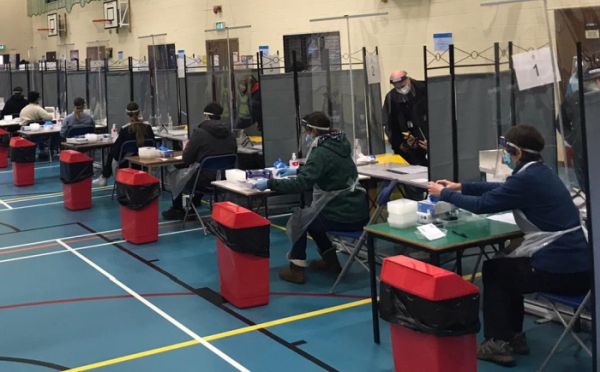 Over the course of the on-site testing process, each student will have been offered three lateral flow tests under supervision and will be allocated test kits to use twice-weekly at home.
Director of Personnel & Corporate Services Vicky Owen, who oversaw the process, said, "This process has required an incredible effort from the staff and volunteers to set up and deliver over 11,000 tests over a three week period, with only two weeks' notice to get everything in place and to carry out training for a large staff.
"Staff working on this project have been wonderful – calm and controlled in the face of some big challenges, not least of which was the weather affecting those working in the marquee. They should be proud of their role as part of the national effort to get life back to something resembling normality."
Principal Sara Russell thanked staff, telling them, "Congratulations on what you have achieved during this pandemic – helping to get the UK's largest Sixth Form College back to on site teaching and learning. It has taken a massive effort and you should be really proud of yourselves."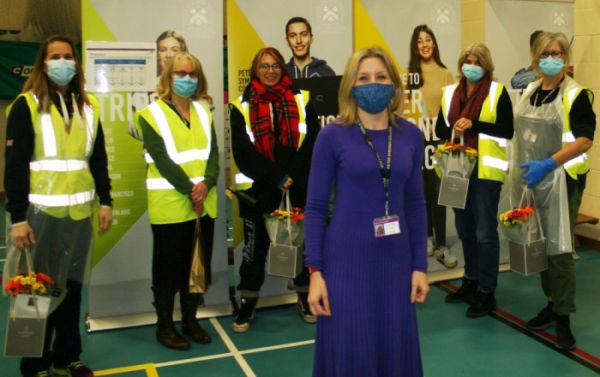 Christine Nicklin, who volunteered to join the testing staff team, said, "I wanted to make a difference and be involved in some way to help students get back to College as I know how important it is. It's a team of great people, it's been hard work but also fun. I've been here every day for the last three weeks and I'm really pleased with what we've achieved."
Commenting on the testing, Sara Russell said "I've been really impressed by our students too – they have committed to this process, attending their appointments for testing, listening carefully to their instructions and being calm and sensible throughout the procedure, doing their part to protect their College community and support national efforts to combat Covid-19."
Student Tink Johnson said "I was nervous about the testing at first but the staff were really helpful and gave step by step instructions. It was more comfortable than I had thought it would be." Fellow student Alex Gunstone agreed, saying "Originally I was worried but everyone was so helpful and kind, it was really easy. It's a good thing as knowing everyone has been tested means I feel reassured to be back at College."
For further information about this article or the college in general, please contact our Marketing department by telephone on 01962 857553 or by email marketing@psc.ac.uk.