Volunteer mask maker works with College to raise over £1000 for Basics Bank
Volunteer mask maker works with College to raise over £1000 for Basics Bank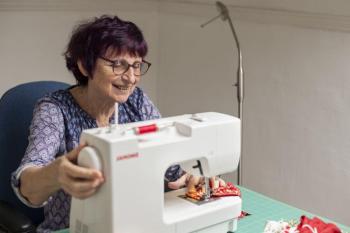 Volunteer mask maker Carol Edwards has recently raised over £1000 for the Southampton Basics Bank by selling reusable face masks to staff at College.
A keen quilter, Carol had an extensive stash of fabric and was in between projects. She said "As soon as the need for face masks was proposed I started making them for my family and friends, as I strongly oppose the use of plastic for throwaway items. Friends of my daughters starting asking for masks too and so the idea of making them for charity was born."
Tom Prentki, Carol's son-in-law, works at Peter Symonds and suggested taking in a basket of masks for fellow teachers, with donations going to charity. The first basket sold out and was very quickly replaced, and Carol estimates that she has made over 350 masks in just over a month, raising much needed funds for the Basics Bank, which supports local people in need with emergency food and clothing supplies.
Carol said "I have been a supporter of Southampton Basics Bank for a number of years, and for me it is an important charity to support during these uncertain times when so many people are suffering financial hardship."
She added "I have been amazed at the response to my masks, and delighted that they have sold so well. I will continue to make them as long as the need is there."
Commenting on behalf of Basics Bank, Jen Ball said "Last December we fed over 1,300 people and this year we expect to be even busier. We are hugely grateful to Carol for using her skills to not only keep people safe but also to raise funds which will help us distribute food and clothing to many people facing hardship during this crisis."
So far, Carol has raised £1022 for the Basics Bank, the bulk of which was raised from sales at Peter Symonds College.
About Basics Bank
Established by Southampton City Mission, the Basics Bank project operates from six locations across the Southampton area, helping struggling families and individuals with very basic necessities including food banks and a clothes bank.
For further information about this article or the college in general, please contact our Marketing department by telephone on 01962 857553 or by email marketing@psc.ac.uk.