Geography Department host The Hampshire Geographical Association 6th Form Virtual Conference
Geography Department host The Hampshire Geographical Association 6th Form Virtual Conference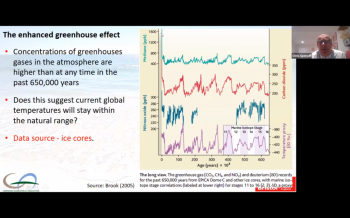 The Hampshire Geographical Association 6th Form Conference was hosted online on Tuesday 24th November by Peter Symonds College Geography Department. Over 300 students from 9 local schools and colleges attended the webinar. The first speaker was Dr Jen Dickinson, senior lecturer at Winchester University. She spoke about the Geopolitics of China's relationship with African countries.
Our second speaker was Dr Chris Spencer, senior lecturer at the University of the West of England, Bristol. He spoke about how changes to the carbon cycle are causing changes in the water cycle, which in turn are influencing the intensity and impacts of tropical storm events.
Alice Kelly, a PSC student who attended the webinar said, "The Hampshire Geographical Association webinar provided an excellent opportunity to learn new case studies and understand specific statistics for use in exam questions. It would be a useful experience to share in a UCAS personal statement and university interview."
For further information about this article or the college in general, please contact our Marketing department by telephone on 01962 857553 or by email marketing@psc.ac.uk.