Record numbers of Symonds students ready to start careers as medics, dentists or vets
Record numbers of Symonds students ready to start careers as medics, dentists or vets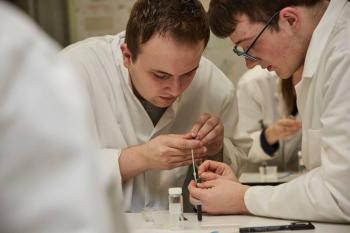 Peter Symonds College students are celebrating an impressive number of offers of university places to study medicine, dentistry and veterinary medicine.
A total of 62 students have been offered places to study medicine, five students have places to study dentistry and eight students have been offered places to study veterinary medicine.
Student Georgina Hart, a former pupil at Kings School in Winchester, said "The application process to study medicine is not a short or easy one, but now that I have come out the other side and received four offers, I feel thrilled that all my efforts have paid off!"
She continued "Whilst applying to medicine required a lot of independence and self motivation, Symonds provided support along the way including running mock interviews and having doctors and other allied health professionals attend the careers day. Teaching staff have been a huge help supporting medicine applicants in reviewing and improving personal statements. The Careers Department has also been of help with UCAS advice."
Student Hameem Khan, a former Cams Hill School pupil, said "I wanted to study medicine after the college helped me find work experience. This inspired me to research into medical careers and sparked my interest. I feel very secure with my place and excited for the future."
Biology teacher Julian Foster said "Places on courses such as medicine, dentistry and veterinary medicine are notoriously difficult to obtain and so we are thrilled that the hard work and dedication of these students has paid off. Their diligence and motivation has carried them through an extremely rigorous selection process with a demanding set of entry requirements and we wish them every success with their future studies."
The College has a number of programmes dedicated to improving access to medical and veterinary degrees and has close links with outreach programmes at a number of Russell Group universities, including the University of Southampton. The College runs a very successful Oxbridge programme and is also part of the HE+ collaborative project in Hampshire which is run in conjunction with the University of Cambridge and encourages students to apply to highly selective higher education institutions.
In addition students hoping for a career in a medical field can explore their interest further through various additional activities offered as part of the College's enrichment programme, including Future Medics, Future Vets and Biology Extension. Students from Peter Symonds also have a long and successful track record competing in Biology and Chemistry Olympiads.
Symonds and former Thornden School student Omar Elawady said "My inspiration for studying medicine was my deep enjoyment of sciences, which was developed and blossomed thanks to the teaching at Symonds. I decided to put this to good use in helping others after I witnessed my father get admitted into hospital due to a DVT. I feel excited that I get to pursue that further and study medicine at uni."
For further information about this article or the college in general, please contact our Marketing department by telephone on 01962 857553 or by email marketing@psc.ac.uk.