Peter Symonds College Spreads Joy With Inaugural Pride Festival
Peter Symonds College Spreads Joy With Inaugural Pride Festival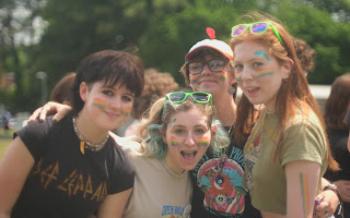 The Festival celebrated and embraced diversity as part of the College's ongoing drive to build positive relations between different groups at one of the UK's largest and most successful sixth forms. It is one of the many annual and ongoing initiatives led by the College's Equality and Diversity ambassadors to help ensure that everyone has a voice and is represented.
Head of BTEC Law and festival organiser, Graham Childs, said: "Our inaugural Pride Festival was established to mark and unite our similarities and our differences on a day of bright and beautiful celebration.
"The College has always been fully committed to promoting equality of opportunity and has good relations with GSA and NEU (National Education Union), of which we are proud. It was fabulous to see students and staff come together and get right into the swing of things."
With more than 4,300 students, Peter Symonds has a vibrant, diverse student community, many of whom are proactively involved in a wide range of cultural societies, action groups and forums aimed at raising awareness and promoting equality, diversity and inclusivity (EDI). The College offers a varied enrichment programme outside of the traditional classroom which includes clubs focusing on Nintendo Switch, Colour Therapy and the LAMDA Public Speaking Award, to name a few, as well as the more established music and sport activities.
For further information about this article or the college in general, please contact our Marketing department by telephone on 01962 857553 or by email marketing@psc.ac.uk.