Peter Symonds College athletes power South East to victory at the AoC Sport National Championships
Peter Symonds College athletes power South East to victory at the AoC Sport National Championships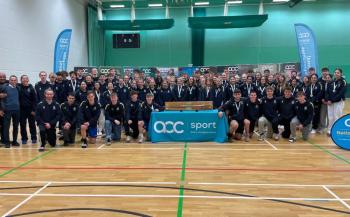 The largest annual student sporting event in Europe, The Association of Colleges Sport National Championships took place at Nottingham University last weekend (14-16 April) and Peter Symonds College was a powerhouse in helping South East achieve victory.
Peter Symonds College was the highest represented college at the national event this year. With 85 students attending, the College's athletes made up the majority of the South East Team who were announced as winners at the end of the weekend.
PSC students and team captains from the South East, Zahra Kateregga (Netball) and Max Wedderburn (Hockey), collected the prestigious Wilkinson Sword in the closing ceremony.
Head of Enrichment (Sports Teams) and trip lead, Sam Jones, said: 'What an incredible weekend of sport for Team Symonds! To have the most students attending champs, but also have them walk away with so many medals, is an astounding achievement.'
PSC contributed massively to South East's win with the following results:
Badminton - 1st
Basketball (Women's) - 1st
Cross Country (Men's) - 1st
Hockey (Mixed) - 1st
Tennis (Women's) - 1st
Football (Men's) - 2nd
Netball - 3rd
Rugby (Men's) - 3rd
Tennis (Men's) - 4th
Volleyball (Men's) - 5th
Table Tennis (Men's) - 7th
Sam went on to say: 'Our students have shown how talented they are, but also how supportive they are of each other; it was really inspiring to watch. I'd like to thank them for their commitment to their teams and the College. Also, a huge thank you to our team managers who have worked so hard all season to prepare their squads.'
PSC's students also showed support of the competing teams, with four student volunteers also attending the event to help run the different sporting competitions.
Principal Sara Russell commented on the student's success: 'I am absolutely thrilled at the phenomenal achievement of our students at the AoC Sport National Championships. It's a true testament to the hard work, dedication, and sportsmanship of our students. We are incredibly proud of their outstanding performance and contribution to the South East team's victory. A huge congratulations to all of our students who took part, and thank you to our outstanding sports department for their excellent coaching and support.'
For further information about this article or the college in general, please contact our Marketing department by telephone on 01962 857553 or by email marketing@psc.ac.uk.