Sporting success at Symonds sees the highest number of students from the South East at the AoC National Championshipships
Sporting success at Symonds sees the highest number of students from the South East at the AoC National Championshipships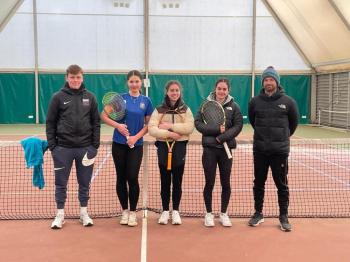 Over the past few months, Peter Symonds College sports teams have been competing for a chance to travel to the AoC Sport National Championships at Nottingham University in April.
After winning multiple AoC Regional Tournaments, Peter Symonds has the highest number of students travelling to the Championships in the whole of the South East. 95 students will stay and play at Nottingham from the following teams:
Men's Table Tennis
Men's Volleyball
Women's Basketball
Men's and Women's Cross Country
Mixed Hockey
Men's and Women's Tennis
Men's Rugby
Men's and Women's Badminton
Netball
Men's Football
This is a fantastic achievement for the college, which has reiterated their domination in South East Sport after the pandemic.
Head of Enrichment (Sports Teams) Sam Jones says: 'This is a huge achievement for college sport and our prestigious enrichment department. To have 95 students from such a wide range of sports and genders travelling to the biggest national college competition in the country really shows our commitment to team sport. I can only thank our sports team players and coaches for all their talent and hard work that has made this possible.'
The qualification of the Men's Football team for the first time ever has encouraged a new sponsorship deal with M D Jones Plumbing and Heating. Our Netball 1st team are also beginning a sponsorship deal with J Skene Roofing.
The event is described as a "mini-Olympics" for colleges. In 2023, the Championships are at Nottingham University from Friday 14th April – Sunday 16th April. Teams will compete against other regions in the hope of winning the prestigious Wilkinson Sword for the South East.
For further information about this article or the college in general, please contact our Marketing department by telephone on 01962 857553 or by email marketing@psc.ac.uk.