Peter Symonds Only College in Hampshire to Be Selected in Government's Rebuilding Programme
Peter Symonds Only College in Hampshire to Be Selected in Government's Rebuilding Programme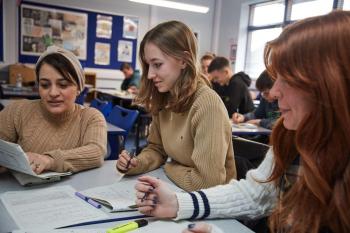 Peter Symonds College, Winchester, is pleased to have been selected as one of just 239 schools and colleges in the country for the Department of Education's School Rebuilding Programme.
As part of the Government's investment to level up education, the Schools Rebuilding Programme carries out major rebuilding and refurbishment projects at schools and sixth form colleges across England.
For Peter Symonds, this is a fantastic step forward for the College in its mission to become net zero carbon by 2050. The wonderful heritage of the campus means that investment in its buildings is crucial in order to provide versatile and sustainable facilities for students and staff alike.
Sara Russell, Principal, said: 'We have superb facilities here at Peter Symonds, but it is imperative that we continue in our commitment to provide our students and staff with access to modern, state-of-the-art learning and teaching environments. The Schools Rebuilding Programme will enable us to refurbish existing buildings to help meet our sustainability targets and positively impact the learning experience of our students.'

Steve Brine, MP for Winchester, added: 'This is a big vote of confidence in Peter Symonds and its strong leadership. The college provides excellent opportunities for young people locally and this investment will help that continual improvement.'
The Department for Education is set to confirm the scope of the refurbishment project at Peter Symonds College over the coming months.
For further information about this article or the college in general, please contact our Marketing department by telephone on 01962 857553 or by email marketing@psc.ac.uk.