Remarkable Results Day Performance by Peter Symonds Students
Remarkable Results Day Performance by Peter Symonds Students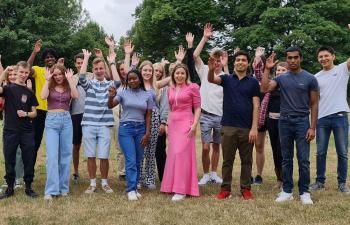 A level and vocational qualification results for 2022 at Peter Symonds College are once again absolutely outstanding. The pass rate for A level stands at over 99% with 40% of the grades awarded being at A* or A. The proportion of the very highest grades (A*, A, B) is an impressive 67%.
Students studying vocational courses have also done exceptionally well, with a pass rate of over 99%
Overall statistics
A Level pass rate: 99%
A Level grades A*-C: 85%
A Level grades A*-B: 67%
Vocational courses pass rate: 99.1%
BTEC grades Distinction or Distinction*: 59% (D, DD, or DDD or higher/straight distinction grades or higher)
Highlights
40% of A level grades awarded were at A* or A.
16% of A level grades were the very top A* grade – 854 A* grades overall; our students are stars.
Two-thirds of A level grades were either A*, A or B: the very top grades needed to get into the best universities.
Over 70% of grades awarded for the Extended Project Qualification were at A* or A.
In the new T level qualification, there was a 100% pass rate with ten out of eleven students gaining a distinction grade.
A pass rate of 100% for students completing BTEC programmes
Principal Sara Russell said:
"This year group has had an educational experience like no other – the first to have its GCSE exams cancelled, and the first to be asked to sit full A level examinations, and all sorts of COVID arrangements to navigate in between.
"Against a national drop in A level performance, we are proud that we have bucked this trend and our students' grades are as high as last year: indeed, the proportion of A* grades has actually increased with almost 1,000 securing this top grades.
"I can't begin to tell you how delighted I am for them. The results you see today are the best ever attained by our students.
"It is a very proud day for the college, the staff and the parents. But above all, it is a remarkably proud day for our students. Their tireless hard work, focus and dedication really has paid off. I am thrilled. This shows that Symonds remains the perfect place for ambition."
For further information about this article or the college in general, please contact our Marketing department by telephone on 01962 857553 or by email marketing@psc.ac.uk.