Sir Vince Cable visits College
Sir Vince Cable visits College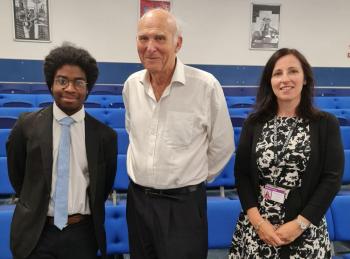 Former political party leader and economist Sir Vince Cable visited Peter Symonds College recently to talk to students about his career journey in both Economics and Politics.
Sir Vince spent over an hour chatting to students and sharing his experiences, answering questions and offering advice. Looking back on his career, he said he was inspired by the belief that as a politician, "The things you can deliver could change people's lives, and make them better."
Students found the talk interesting and informational, with Japheth Harris describing it as, "An eye-opening insight into what it means to go into politics." Edward Mason agreed, adding, "It was good to get an inside view of politics rather than what you hear on the news, and good to hear the views of someone who has a deeper understanding of what is going on. I also found it really interesting to hear how a third party could develop their power and affect the future."
Debbie Mahoney, Head of the Careers Department at Peter Symonds, said, "Sir Vince was an engaging and fascinating speaker who has been on the front line of politics and a leader in his field. It was an invaluable opportunity for our students to get his perspective on how to enter this career area and learn the importance of transferable skills, not just qualifications. We are very grateful to both Sir Vince and Speakers for Schools for helping to organise this opportunity for our students."
Sir Vince is the former MP for Twickenham, Leader of the Liberal Democrats and Chief Economist for Shell International. He is now an author, academic and business director, and visited the College as part of the Speakers for School Predict 2022 future careers campaign.
For further information about this article or the college in general, please contact our Marketing department by telephone on 01962 857553 or by email marketing@psc.ac.uk.