Marchant back at PSC!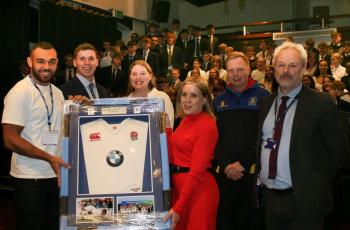 PSC Journalist Intern Louisa Philips reports on alumnus and professional rugby player Joe Marchant's recent visit to Peter Symonds.
On a chilly Monday afternoon, the PSC rugby squads gathered together to meet an esteemed alumni of the college. Joe Marchant, Harlequins centre and an England wing, spoke to our students and staff about his experiences being a professional rugby player at such a young age, and answered questions from the audience about his professional career and rugby ambitions.
Questions about Joe Marler, his teammate and friend; Mike Marchant (Joe's father) versus Eddie Jones; and who can bench the most on the team (also Joe Marler) were a light-hearted start to the session. When reflecting on his Harlequin season, however, Joe described how the players themselves took the responsibility to train and up their game, to the point where the other teams couldn't keep up. Even when the pandemic struck, momentum slipped and fans were lost, training and perseverance were still present even when in quarantine.
This perseverance and drive were common themes throughout the talk, as Joe described how you have good days and bad days, in rugby and in life. What is needed is the assurance that you are here for a reason, and to trust that "rewards will come". But he also urged that learning to relax and managing excitement also is a key factor to cope and maintain a healthy mindset. Playing the guitar and chilling are his pre-game routines, effective at "getting rugby out of his head".
As a previous student, Joe enjoyed the independence of Peter Symonds and the self-reliance it gave him. He learnt to manage his time effectively as a young person, who was studying and training around the country daily. However, he also emphasised the enjoyment of playing rugby here at Symonds, and the coming together of previous competitors to play on one team was a big factor in that. Joe's time at Symonds also showcases the support our college offers to young people who are undertaking high levels of sport or any activity, to pursue their dreams whilst also achieving an excellent education.
Both the Men's Captain and Women's Manager also agreed that Joe's story gave an insight into what it takes to be a professional rugby player, who still achieved his college goals. As the evening drew to a close, Joe presented the college with his own England rugby shirt, a reminder of the great things one can achieve with drive to achieve their aspirations, overcoming setbacks and taking every opportunity.
For further information about this article or the college in general, please contact our Marketing department by telephone on 01962 857553 or by email marketing@psc.ac.uk.