College Carol Service returns to Cathedral
College Carol Service returns to Cathedral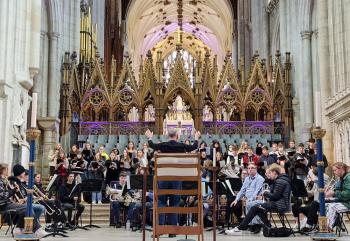 Music students from Peter Symonds College are celebrating the return of the College's annual Carol Service, recently held in Winchester Cathedral for the first time in nearly two years.
The service featured traditional congregational carols and seasonal music performed by College Brass, College Choir, Kelso Choir and an 8-voice vocal ensemble, including several beautiful solos from students Dhanya Ebenezer, Elena Strachan, Daniel Simijoki, Evelyn Byford and Verity Sawbridge.
Principal Sara Russell and students Japheth Harris, Chloe Robertson, Max Tilden, Claire Stuart and Maisey Rowles delivered readings throughout the service. Prayers were said by Canon Roland Riem, Vice-Dean and Canon Chancellor and College Chaplain Reverend Mary Copping.
Students were delighted this year's Carol Service was able to take place, with Music student Theo Joly saying: "Performing live is an incredible feeling, nothing beats live music and the atmosphere it creates. To be back after such a long couple of years after Covid is fantastic and performing at the Cathedral is a unique opportunity."
Maya Chakraborty agreed, adding, "It's really nice to be performing live again because we've missed out on so much during Covid. Performing at Winchester Cathedral is amazing. There's nothing else that can replicate this experience, it has great acoustics and is beautiful."
Head of Music Rachel Platt said: "It's very important for our students to have these opportunities to perform to ensure they develop as musicians. We are grateful to the Cathedral for their help and support enabling this year's Carol Service to go ahead, as it is always a highlight of the College year and a wonderful experience for our students who gain so much from it. The students delivered a delightful and moving event and we are very proud of them."
Open to members of the public, the Carol Service won praise from a number of attendees, with audience member Claire Bartolini commenting, "An absolutely beautiful service, I loved listening to the various vocal ensembles and the brass ensemble."
Every year a retiring collection is held for a local charity. This year's charity was the Winchester Beacon, formerly Winchester Churches' Nightshelter, which has been providing vital and safe accommodation to people experiencing homelessness in Hampshire for over 30 years. Please visit wcns.org.uk if you would like to find out more about how to support the Winchester Beacon and the important work they undertake.
For further information about this article or the college in general, please contact our Marketing department by telephone on 01962 857553 or by email marketing@psc.ac.uk.