Happy Hanukkah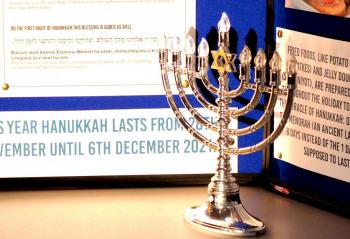 As part of the College's Hanukkah celebrations, PSC Journalist Intern Emily Henson caught up with stduent Yael-Louise Dekel to talk about her experiences with Hanukkah and what it means to her.
Hanukkah is a Jewish festival that occurs around late November to December and lasts for
eight days and nights. This year, it falls from the 28th of November to the 6th of December
and the dates change each year due to them being based on a lunisolar calendar, rather
than the Gregorian one. In Hebrew, it is know as חֲנֻ כָּה , which is most commonly translated as
Hanukkah or Chanukah, and means 'dedication' in reference to the rededication of the
Temple.
The festival commemorates when, after being persecuted by the Greeks, a Jewish group
rebelled. They took back their Temple and rededicated it, but they only had enough oil to
burn the menorah for one day, however the candles burnt for eight days. This is celebrated
by lighting the menorah each night of Hanukkah, adding one candle a day, and placing it in a
window or doorframe.
Traditionally a minor holiday, Hanukkah has gained more prominence in western counties
due to its proximity to Christmas, especially in places like America with large Jewish
populations. New York houses two menorahs that have both claimed to be the 'world's
largest' and they are both lit before crowds. In the UK, one of the biggest events is in
Trafalgar Square where a giant menorah is lit, but most people celebrate at home with their
families.
What traditions beyond the Menorah do you do during Hanukkah with your
community or family?
In the city I live in, there's no proper Jewish community. To still get involved, when I was in
primary school my dad would throw parties centred around different Jewish holidays. I would
invite my (non Jewish) friends from school over, my parents would teach them the stories
and we would do different activities based around the holidays. We also eat lots of oily foods
(e.g. donuts and latkes) and play games with chocolate coins and spinning toys.
What meaning and significance does Hanukkah have to you?
Like many Jewish stories, Hanukkah is about Jewish persecution. Growing up, constantly
hearing stories about your people being enslaved or oppressed was really depressing. When
I got older though I realised that the focus wasn't on us being enslaved, but that no matter
what happened to us we're able to overcome it and Hanukkah really reminds me of that key
message. The holiday reminds me of the strength of my people, how we've been through so
much yet are still able to thrive.
It's just a very fun holiday with the donuts and dreidels. I like the songs and there's
something magical in seeing all of the candles lit. It's also a nice time to be with family.
Do you think other people are aware of Hanukkah and its history?
In all my years at primary school I only remember having one twenty minute lesson on
Judaism. However, despite that, I do think that Hanukkah is one of the most well-known
Jewish holidays.
Do any Hanukkah celebrations affect life at college?
Hanukkah is celebrated at home so it doesn't interfere with college. Saying that though,
events celebrated after sunset (particularly Shabbat) I can't do. Normally I would try and light
candles just after sunset on Friday evening (start of Shabbat), but my lesson finishes at 4:40
and now in the winter months it gets darker quicker so I always miss the start. It's annoying,
but I can't do much about it. It'll be easier in the summer when the sun sets late.
Thank you to Yael-Louise for her insights.
As part of our Hanukkah celebrations in college, there is an LED menorah by Student
Services, which students can visit to learn more about the holiday. We wish everybody
celebrating a very happy Hanukkah.
For further information about this article or the college in general, please contact our Marketing department by telephone on 01962 857553 or by email marketing@psc.ac.uk.