AHED Students celebrate triumphant degree graduation day
AHED Students celebrate triumphant degree graduation day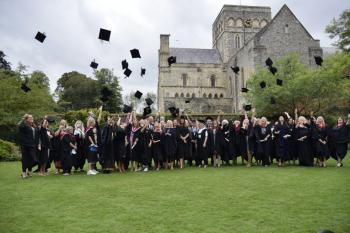 Students from Peter Symonds College Adult & Higher Education Division (PSC AHED) are celebrating achieving their degrees in the face of the unprecedented challenges caused by the pandemic.
One hundred and seventy-eight PSC AHED students from seven degree subjects attended a ceremony at the Hospital of St Cross to honour the achievement of their degrees, graduating with either a Foundation Degree (2-year course) or a full honours Degree (BA or BSc, 3-year course). Some students should have graduated in 2019 but their ceremony was delayed due to COVID 19.
The majority of these graduates returned to education as mature students after a long period out of education, opting to upskill, retrain or find a new direction in life. During their time at PSC AHED these students have conquered the many challenges of studying as an adult; juggling caring for young families, managing demanding work commitments and gruelling commutes, with the added challenge of a global pandemic and repeated lock-downs thrown in.
Director of Adult & Higher Education Dom Thompson said, "To study part-time, balancing work and family life, is hard enough but to do this through a global pandemic with isolation, lock-downs and home schooling is phenomenal. The teaching team, rightly so, are incredibly proud of what the students have achieved - as am I."
He added, "The ceremony itself and the grounds at the Hospital of St. Cross were beautiful. To see so many smiling students and proud, sometimes tearful, supporters demonstrated the importance that Higher Education in a Further Education setting has. For many of these students it is a second chance; sometimes a career change or a time to come back to education after raising a family. What these students have achieved, and will go on to achieve in their new careers, is fantastic."
Results data shows that the high quality of teaching offered at AHED has been maintained throughout the pandemic, with 77% of students receiving a First or Upper Second (2:1) degree. Students on the BA (Hons) Humanistic and Integrative Counselling course did particularly well with 92% of students receiving First Class degrees.
Graduates Dawn Forshaw and Rachel Trott were both celebrating achieving Distinctions in their Early Years Foundation Degrees. Dawn studied while working full time as a nursery manager, spending one full day a week in classes and studying on weekends. She described the experience of studying while working as "time consuming but worth it – it was a great journey. During the lockdown everything went online, including my student support group, so I still had my people to help me through it."
Dawn added, "I gained transferable skills and could apply concepts from modules we'd studied at work." She concluded, "I'd always wanted a degree and wanted to challenge myself and add some focus to my life. It's given me a great deal of self-confidence and self-belief and I plan to go on to do a BA, with aspirations to a Masters and a role as an Early Years lecturer. It's the best decision I've made and I've gained lifelong skills."
Rachel, who works as an Early Years Practitioner, agreed, saying, "I did my Early Years Educator Level 3 course at AHED so already knew the team and felt I already had support in place. They are wonderful for adult education and make you feel welcome and able.
"Most people think a degree is out of their reach, especially if they didn't do A Levels or similar, but AHED go at your pace, build you up slowly and give you all the skills to do it. To anyone thinking about taking that step I'd say just do it!"
For further information about this article or the college in general, please contact our Marketing department by telephone on 01962 857553 or by email marketing@psc.ac.uk.