College Careers Day goes online to inspire students
College Careers Day goes online to inspire students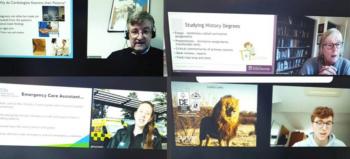 Students at Peter Symonds College are considering their future options after the College held its annual Careers Day online for the first time.
Nearly 150 talks were delivered over the course of Careers Day, with a variety of guest speakers from the fields of higher education, public services and local and national business delivering lectures and Q&A sessions using zoom.
Sessions on "Teaching in a Secondary School," "Town Planning and Urban Design" and "Benefits of Taking a Gap Year" were particularly popular among students, as were talks on "A Career as Diplomat," "Oceanography" and "Careers in Medicine."
Students were able to listen to and quiz speakers from a wide variety of organisations including the BBC and ITV, law firms and legal chambers, the Armed Forces and public services, including nursing, midwifery and the police and ambulance services.
A number of speakers from higher education institutions, apprenticeship schemes and organisations covered topics ranging from "Student Finance" to "Studying Abroad" and the "Future of Employment."
Students attended between 3-6 sessions over the course of the day. When asked for feedback comments from students included, "The speaker was excellent in covering everything that needs to be done to succeed in this career, as well as explaining the lifestyle that we would expect;" "Speaker was very experienced and had good knowledge. Talked about a variety of job opportunities;" and "Interesting aspect and wide range of information and information on which A levels are beneficial. [The speaker] also gave a good explanation on the many routes into the career."
Speakers also enjoyed taking part in the event, with Joanna Lee of the South Central Ambulance Service saying "This virtual event was very well organised and we all felt from our end it was a great success. It was lovely to have the students ask lots of questions and we felt we got more questions than we would when we come face to face to deliver these presentations."
Sarah Byard from Lancaster University agreed, adding, "A really well run event. Students were engaged and asked so many questions, which was fab!"
Debbie Mahoney, Head of the Careers Department at Peter Symonds, said "Careers Day is always an amazing opportunity for students to gain an insight into the diverse range of career areas and opportunities available, labour market information, and to broaden their knowledge of courses available in higher education so they can make informed decisions about their next steps.
"Speakers, staff and students all embraced the new 'zoom' version of Careers Day and the day ran incredibly well. We have had fantastic comments from our speakers, who commented on how well received they felt, how impressed with they were with the number of students attending and how motivated the students were to listen and ask questions."
The College followed up on the success of Virtual Careers Day with a virtual version of the annual Progression Fair, enabling students to research their next steps after College. Exhibitors included higher education institutions both in the UK and abroad, local and national employers and organisations, and just as with a live event students enjoyed the opportunity to view information, chat with exhibitors, collect information and interact with the organisations attending.
For further information about this article or the college in general, please contact our Marketing department by telephone on 01962 857553 or by email marketing@psc.ac.uk.