Symonds welcomes leading performers to online Young Musician Festival
Symonds welcomes leading performers to online Young Musician Festival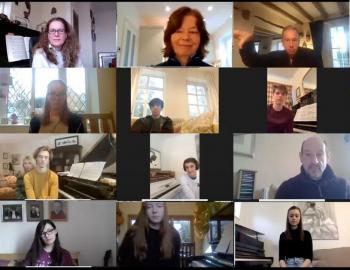 Peter Symonds College Music Department successfully navigated yet another lockdown learning challenge recently, holding its annual Young Musician Festival online. Seven internationally renowned musicians logged in over the course of the week to deliver live performance masterclasses and workshops in Piano, Strings, Wind, Brass, Percussion, Guitar and Voice.
Dr Samantha Carrasco, Head of Keyboard, who organises the Festival, had to approach this year's event slightly differently. She arranged a pre-recorded accompaniment for each student taking part, enabling them to play live in front of an online audience. The best performance from each class will go on to play in the Final which will be held later in the year.
The Festival kicked off with a singing masterclass from Heidi Pegler, performer, teacher, publisher and Baroque specialist, followed by a woodwind masterclass from influential educationalist, composer and writer Paul Harris.
Mark Tanner, concert pianist, composer, teacher and writer delivered a masterclass in piano followed by a workshop from guitar maestro Zoran Dukić, a distinguished performer and recording artist.
Chair of the European String Teachers Association Dale Chambers held a strings masterclass and Claire Hasted, consultant for ABRSM and Trinity, held sessions in percussion for students. Mark Armstrong, Musical Director of the National Youth Jazz Orchestra and Jazz Professor at the Royal College of Music concluded the Festival with a brass masterclass.
Commenting on the Festival student Robyn Jones, winner of the singing class, said "I have done a number of concerts via zoom during lockdown but never a competition; it can be difficult to perform virtually as you don't get the same energy from the audience and you can't see peoples' faces as you sing. The benefit though is it is far less nerve racking singing in your kitchen than on stage."
She added, "You have to learn to be extra expressive to try and connect with the viewers and be aware that the audience can see your facial expressions more clearly on camera."
Finlay Housham, winner of the strings class, said "I found performing for, and being given diligent feedback by, a professional musician very exciting and inspiring."
Dr Samantha Carrasco said, "This was a Peter Symonds first putting the festival online - the students rose to the occasion and really enjoyed the opportunity. It gave them a wealth of experience performing online and has given them extra confidence and insight into communicating to a virtual audience, which will be similar to the process of performing for their A Level recordings later in the year. They mastered working with a pre-recorded accompaniment brilliantly!"
Samantha added, "It was an incredibly worthwhile opportunity for the students to continue performing in these challenging circumstances and we are very grateful to our sponsors, the Symondians Association and Christes Hospitall Foundation, for their generosity and support."
For further information about this article or the college in general, please contact our Marketing department by telephone on 01962 857553 or by email marketing@psc.ac.uk.