PSC Corona Chronicles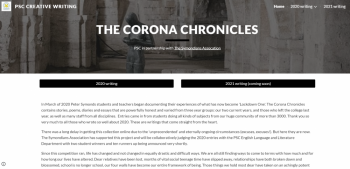 In March of 2020 Peter Symonds students and teachers began documenting their experiences of what has now become 'Lockdown One'. The Corona Chronicles contains stories, poems, diaries and essays that are powerfully honest and varied from three year groups: our two current years, and those who left the college last year, as well as many staff from all disciplines. Entries came in from students doing all kinds of subjects from our huge community of more than 3000. Thank you so very much to all those who wrote so well about 2020. These are writings that come straight from the heart.
There was a long delay in getting this collection online due to the 'unprecendented' and eternally ongoing circumstances, but they are finally published! The Symondians Association has supported this project and will be collaboratively judging the 2020 entries with the PSC English Language and Literature Department with two student winners and ten runners up being announced very shortly.
Since this competition ran, life has changed and not changed in equally drastic and difficult ways. We are all still finding ways to come to terms with how much and for how long our lives have altered. Dear relatives have been lost, months of vital social teenage time have slipped away, relationships have both broken down and blossomed, school is no longer school, our four walls have become our entire framework of being. Those things we hold most dear have taken on an achingly potent quality. This is a time to write. Therefore the competition for 2021 is now on. Once again, it is open to all students and staff (not just teachers) at the college. Please start sending your entries in (along the lines of the 2020 ones- anything goes) and they will go online in due course, like the 2020 collection. I'm keeping the deadline vague- firm plans are so last season!
Please enjoy this collection and share it - click here.
From Isobel Simons - Head of English Language and Literature.
For further information about this article or the college in general, please contact our Marketing department by telephone on 01962 857553 or by email marketing@psc.ac.uk.