It's National Storytelling Week 2021!
It's National Storytelling Week 2021!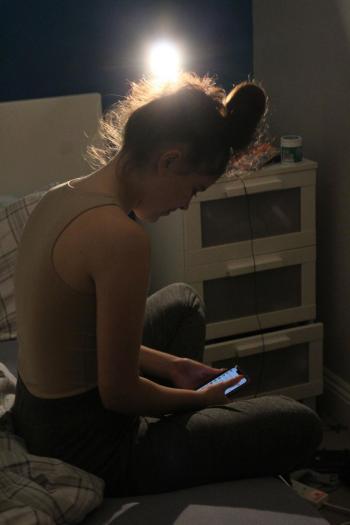 Online learning: Log in to zone out!
By Louisa Phillips
Nothing beats that awkward moment of joining a google classroom with no one in but your teacher. Our summer and winter terms were and are filled with technical difficulties: sites crashing and webcams suspiciously not working. We as students must sit behind a screen trying to learn from a highly pixelated PowerPoint whilst our parents decide to vacuum ten meters away. And it doesn't help when the teacher's microphone decides it is not going to let anyone have eardrums today. But in retrospect google classroom has been a saviour to our learning during this pandemic, although at times it sounds like a demon coming from your laptop.
Along with many others, I have struggled with learning in lockdown. Reading financial plans can get tedious when your phone is a fingertip away, and the black screen is tempting you to pick it up. Suddenly a group chat is raving away about the work, or the breakout room you enter is filled with your favourite people, and you're learning brain shuts down. But it also takes a toll on our mental health. Staring at a screen filled with silent faces who are trying as hard as you to listen without getting distracted becomes uncomfortable, and you feel self-conscious every time you drink or stand up. Lockdown has also taken away many friendships, as we stopped seeing each other everyday in Paul Woodhouse or on the train/bus. We gradually got lonelier, and suddenly not talking to friends got a whole lot easier. But, when we eventually do get back to college, we will be able to see those people again, and not be forced to talk over snapchat or facetime every day. This gives me hope, as we will get back to normal as quickly as humanly possible, we just need to hang on a couple weeks more.
To our joining students, your journey through GCSE's has been a bit different than previous years. In my final year at school, we didn't even attempt online learning, so when schools shut, I stopped completely. But you've had to finish your courses online without complete certainty that exams are going ahead, and, with the recent news that they will not, I stand with you in your worry in how you will be assessed. The best advice I can give is to make your knowledge known to your teacher. Put your hand up on every question, even if they don't call on you, they will see you can contribute something to the conversation and when grading you, will think of those moments, seeing you participate. And now, applying to colleges will be more stressful, as the control over your results, which was continuously drilled that it was ours alone, is out of your hands. Just remember, colleges are not looking for a reason to not accept you. They want you, as a person and a learner, so present the best version of yourself, have confidence and clarity that you can get through this and go onto better things.
When speaking to my friends, I have gathered that online learning is taking its toll. The aspect of not talking to classmates and friends came up frequently, as it was said that this makes college life that much better. However, breakout rooms gained praise, as it offers the chance to speak to people in class that you wouldn't usually, as seating plans prevented it. The days, however, are considered more tiring and stressful when sat looking at a screen every day. And I agree. We are losing strength physically and mentally to engage in lessons or even go outside, as some college days last the whole daytime. Teachers also had positive reviews, as they are in the same situation as us, therefore they always try to ease the boredom of online learning.
And that's what we should remember. As much as teachers and students are pitted against each other, we are both in the same situation. I talked to a teaching assistant, who just happens to be my mum, and she expressed the usefulness of online learning, as transport can often be unreliable, and illness can strike unexpectedly. However, the downsides are the same as students. Interaction with students and other adults is limited so teaching can be stressful when figuring out how to present your screen.
Overall, as a student, I think online learning is the best option to continue our studies with the resources we have available. Obviously, it is not ideal, and everyone understands this, but it's what we have in this moment, so we must make do. To help with getting distracted, I would say to put your phone more than an arm's length away and try to focus on the class. This might mean putting some background music on, or the opposite. And try to talk with friends online, I know it's hard and it's not the same as meeting in person, but we are social creatures. We need to talk with our peers and share our thoughts and worries, don't keep them bottled up. But for now, we'll just have to log on when our lesson starts and try not to leave our microphones on!
Photo credit: L6 Isabella Miles-Hardt - PSC Photography Intern
For further information about this article or the college in general, please contact our Marketing department by telephone on 01962 857553 or by email marketing@psc.ac.uk.