Music
The Music Department at Peter Symonds offers fantastic opportunities for all our students.
Our brilliant music activity programme is second to none
We have one of the busiest music diaries in the country - come to one of our concerts and hear for yourself
We perform in exciting venues like Winchester Cathedral, the Guildhall in Winchester and Concorde Club in Eastleigh
There's a huge range of opportunities in bands, choirs and orchestras - see our Connect magazine for more details
If you love Music we hope you will want to study Music with us. There are currently 85 students studying Music at Peter Symonds, and our courses cover a wide variety of musical styles, from Classical to Contemporary. We offer the Hampshire Specialist Music Course and Music A level, and BTECs in Music Performance and Digital Music Production.
Exam results are excellent, with A level student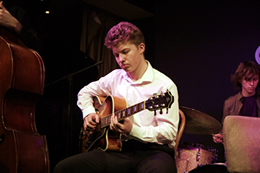 s achieving high grades (A or B) above the national average. Progression to conservatoires and universities is outstanding, and every year a high proportion of A level Music students go on to study music in Higher Education at some of the most competitive institutions in the country. ABRSM exam results are also consistently high.
You can find out more about our Hampshire Specialist Music Course and our Music A level by viewing our course leaflets for each subject here.