Careers & Higher Education
Careers & Higher Education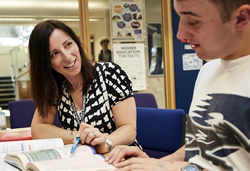 Peter Symonds College has a large dedicated Careers Department, which has held the Investor in Careers quality award since 2008. We are affiliated members of the CDI professional body, demonstrating commitment to providing impartial advice, guidance and progression of all students onto positive destinations once they complete their studies.
The Careers Department offer a number of services to students, which include:
·Bookable one-to-one careers appointments with a qualified Careers Adviser for information, advice or guidance
A Careers Day, Progression Fair, Gap Fair, and a huge range of other events when we welcome employers, gap year organisations and higher education representatives to give talks on a variety of topics such as CV writing, Personal Statement workshops and Studying Abroad
Helping students with the whole UCAS application process, including extra support for students applying to Oxbridge and competitive courses such as Medicine and Veterinary Science
A well-stocked Careers Library, with up to date careers resources, prospectuses and books for students to research and borrow, along with computer guidance packages
Keeping students up to date with external opportunities, such as summer schools, employer insight events and taster days as well as information about degree apprenticeships, volunteering, or part time jobs
A Careers Programme is available for you to see in detail the support and activities we provide to all students, ensuring students' progress onto positive destinations once they have completed their studies. We encourage students to actively participate in shaping and developing our service, recruiting careers reps and holding focus group meetings. We are also keen to seek feedback and views from parents, employers and organisations.
Quality in Careers Standard
The College has held the Quality in Careers Standard since 2008, demonstrating our commitment to developing and delivering quality careers education, information, advice and guidance provision to all students at college. This academic year we are committed to working towards gaining re-accreditation again, through completing the Investor in Careers award. The senior management team has officially written a letter of commitment to the awarding board and the Careers Department will be leading on gathering evidence to achieve this award yet again.
For further information on the Quality in Careers Standard Award visit their website or contact the Careers Lead Debbie Mahoney.