Boarding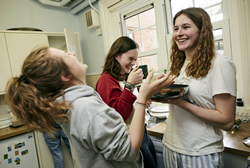 Peter Symonds is the largest state sixth form college in the UK which offers boarding. Our ethos is to make it a stepping stone between secondary school and university. Boarders are encouraged to be independent, whether it be managing their own study time, doing their own laundry or making snacks in the houses. The college is conveniently situated within walking distance from the city centre and all that it offers, shops, leisure centre etc, a stone's throw from the train station which has direct services to Southampton/Basingstoke for shopping, bowling, ice skating, cinema or further afield such as Bournemouth, for days at the beach, or London, for more cultural pursuits! Some boarders, if they live locally, prefer to go home for the weekend.
We have two co-educational Boarding Houses (Falkland Lodge and School House) with places for up to 79 boarders in total.
Falkland Lodge is purpose built and stands at the edge of the campus overlooking the sports field. All the single and twin bedrooms are en-suite and there are two common rooms. Both houses have full kitchens, industrial laundry rooms, dedicated computer rooms, HDMI TVs/DVDs and connection to Wifi.
School House situated in the heart of the campus, is a grand Victorian house with large two and three bedded high-ceilinged bedrooms and a large comfortable common room complete with pool table.
Boarders have use of the Learning Resource Centre and IT suite until 7.30pm Monday to Thursday in addition to the dedicated computer/work rooms in both houses. The multi-gym and sports hall are also available to boarders, after hours on certain days, with courses such as badminton running at certain times of the year. Quiet time is operated every day in both houses where boarders are expected to use their time to study, do homework or revise.
Boarding is term time only and the houses close every college holiday, including an exeat, which coincides with the May Day bank holiday. Boarders either return home or go and stay with a UK guardian.
As a boarder you will meet students from a variety of backgrounds. Many have parents in the Forces and the college provides 6th form education for the Falkland Islands.
Boarding Fees
The boarding fees for September 2024 are £18,945 per annum for Falkland Lodge and £17,580 for School House. The rooms in Falkland Lodge have en-suite facilities, hence the higher charge. If your son or daughter is offered a boarding place, we will then ask for a deposit of £1,500 which will only be considered for refund once they have completed their studies here.