Student Union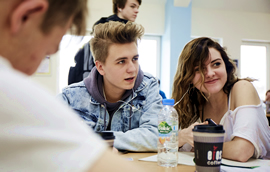 Time at sixth form college can go pretty quickly, it all starts off fine, but before you know it you're already an upper sixth student and you wonder what happened to your first year at Symonds. When it comes down to it, most students at Symonds want the same thing, to work hard, have fun and have some memorable experiences along the way.
The Student Union exists for the student body, and we're always looking for people like you to get involved in events or help tackle any issue. If you want to get involved, just email any of the officers of the Students' Union, or pop in to Student Services in the Paul Woodhouse Centre.We are here to implement ideas that will make every student's life here at Peter Symonds that bit better. We've all got a lot of great ideas and are prepared to do whatever it takes to fulfil all of our aims and not to mention:
To do whatever we can to improve college life
To represent the views of students
To work to gain better facilities
To help students with any problems they might have
To ensure that no students are discriminated against
To allow communication between the SU, the student body, the Senior Management Team and Governors
To encourage respect for our environment
To organise social events throughout the year
To make sure we all have a lot of fun!
We know how important it is to tackle the issues that really matter to you, so if you have any suggestions on how to make your college a better place, either get in touch or just drop your idea into the Student Union Suggestion Box at Student Services.