10 August 2021
Congratulations to the PSC Class of 2021
Congratulations to the PSC Class of 2021
We are delighted that A level and vocational qualification results at Peter Symonds College for 2021 are outstanding. The pass rate for A level stands at 99% with over two-thirds of grades awarded (68%) being at A*-B.
The pass rate for vocation courses is over 99%, with 75% of grades awarded at Distinction or above.
Overall statistics
Results for 2021 at Peter Symonds College are as follows:
A Level Pass rate: 99% A Level Grades A*-C: 86% A Level Grades A*-B: 68%
Vocational course pass rate: 99% Distinction or higher: 75%
Highlights
Over two thirds of A level grades were either A*, A or B: the very top grades needed to get into the best universities.
146 students were awarded A* in Maths A level – PSC is one of the largest centres for A level Maths
421 students successfully completed an EPQ: 160 with an A* and 152 A grade
Principal Sara Russell said:
"This year's Upper Sixth leavers have had an extraordinary experience and have achieved amazing grades in the face of the challenges thrown at them. Our class of 2021 have had a College experience like no other year group. In different ways, all our students have been impacted by COVID19, but they have not allowed the pandemic to curtail their progress or limit their future ambitions.
"They have shown incredible resilience and commitment over their time at Symonds, demonstrating record attendance levels which have been maintained throughout lockdown, which is particularly impressive.
"The grades these students have been awarded have been judged on the quality of the work they have produced and are a well-deserved, accurate reflection of each student's ability. We have a high level of expertise in the staff body at Symonds, enabling us to ensure a robust and fair process was put in place to award student grades.
"Lockdown inevitably caused much anxiety for students but we felt it was important to maximise their access to face to face teaching to ensure when out of lockdown students had full contact for their lessons and support services. It was extremely important to us to keep our mental health support services running, including the award-winning Hub drop in mental health service, and our pastoral team worked closely with all students needing support throughout lockdown.
"We would like to congratulate each and every one of our students for coming through such a challenging experience with determination, focus and ambition. We are delighted to celebrate a fantastic and richly deserved set of results."
Student stories
Student Milosz Kowalski, who formerly attended Bitterne Park School, achieved A* grades in History, French and Sociology A Levels and an A* in his Extended Project Qualification. He is celebrating a place on the Human Social and Political Sciences course at Fitzwilliam College, Cambridge. Milosz said "As someone from a working-class, migrant background, it was sometimes difficult to see myself at Cambridge, but the supportive atmosphere at Symonds made me feel that truly anyone can succeed. The HE+ programme inspired me to go beyond the curriculum, a key aspect of my Cambridge application, while being surrounded by ambitious peers kept me motivated and engaged. Working hard during the pandemic was difficult, but having such a wonderful final goal in sight was extremely helpful!"
Jonathan Frizell joined Peter Symonds College in 2018 from Henry Beaufort School on a Level 2 programme of Maths, English and Media Studies. On completion of his Level 2 studies he moved on to study A Level History and a Digital Media Diploma at Peter Symonds. Jonathan is celebrating achieving a D in History and D*D* in Digital Media. He said "It's been a long three years, I can't believe it's over! I'm really pleased with my results and looking forward to my next step, which is a place on Project Choice, a year long work experience placement taking place at Hampshire Hospital."
Millie Smith is looking forward to taking up an apprenticeship with PwC in Cambridge at the end of the summer. She said "It's been a real period of growth, I've become much more independent here. I managed to get into a good routine during lock down balancing exercise and work which helped me keep studying. I'm relieved, super happy and excited for my next steps."
Maisie Harris achieved D*D* in Health and Social Care and an A grade in Medical Science from Peter Symonds College, alongside working in a nursing home throughout her studies. Although self-isolating at home on Results Day, Maisie said, "When the pandemic hit, I was still studying as well as working many more hours, some weeks more than the usual full-time hours. Peter Symonds was brilliant in accommodating timetable changes to allow me to continue to work and gain a full education during online schooling. I also felt as though I was supported psychologically with regard to the challenges of the pandemic and caring for positive COVID-19 patients. I was pleased with my A-Level results, as the masses of effort by myself and the college have allowed me to gain the best knowledge I can in order to expand my career into nursing and hopefully more specifically cardiology."
5 October 2021
AHED Students celebrate triumphant degree graduation day
Students from Peter Symonds College Adult & Higher Education Division (PSC AHED) are celebrating achieving their degrees in the face of the unprecedented challenges caused by the pandemic.
One hundred and seventy-eight PSC AHED students from seven degree subjects attended a ceremony at the Hospital of St Cross to honour the achievement of their degrees, graduating with either a Foundation Degree (2-year course) or a full honours Degree (BA or BSc, 3-year course). Some students should have graduated in 2019 but their ceremony was delayed due to COVID 19.
The majority of these graduates returned to education as mature students after a long period out of education, opting to upskill, retrain or find a new direction in life. During their time at PSC AHED these students have conquered the many challenges of studying as an adult; juggling caring for young families, managing demanding work commitments and gruelling commutes, with the added challenge of a global pandemic and repeated lock-downs thrown in.
Director of Adult & Higher Education Dom Thompson said, "To study part-time, balancing work and family life, is hard enough but to do this through a global pandemic with isolation, lock-downs and home schooling is phenomenal. The teaching team, rightly so, are incredibly proud of what the students have achieved - as am I."
He added, "The ceremony itself and the grounds at the Hospital of St. Cross were beautiful. To see so many smiling students and proud, sometimes tearful, supporters demonstrated the importance that Higher Education in a Further Education setting has. For many of these students it is a second chance; sometimes a career change or a time to come back to education after raising a family. What these students have achieved, and will go on to achieve in their new careers, is fantastic."
Results data shows that the high quality of teaching offered at AHED has been maintained throughout the pandemic, with 77% of students receiving a First or Upper Second (2:1) degree. Students on the BA (Hons) Humanistic and Integrative Counselling course did particularly well with 92% of students receiving First Class degrees.
Graduates Dawn Forshaw and Rachel Trott were both celebrating achieving Distinctions in their Early Years Foundation Degrees. Dawn studied while working full time as a nursery manager, spending one full day a week in classes and studying on weekends. She described the experience of studying while working as "time consuming but worth it – it was a great journey. During the lockdown everything went online, including my student support group, so I still had my people to help me through it."
Dawn added, "I gained transferable skills and could apply concepts from modules we'd studied at work." She concluded, "I'd always wanted a degree and wanted to challenge myself and add some focus to my life. It's given me a great deal of self-confidence and self-belief and I plan to go on to do a BA, with aspirations to a Masters and a role as an Early Years lecturer. It's the best decision I've made and I've gained lifelong skills."
Rachel, who works as an Early Years Practitioner, agreed, saying, "I did my Early Years Educator Level 3 course at AHED so already knew the team and felt I already had support in place. They are wonderful for adult education and make you feel welcome and able.
"Most people think a degree is out of their reach, especially if they didn't do A Levels or similar, but AHED go at your pace, build you up slowly and give you all the skills to do it. To anyone thinking about taking that step I'd say just do it!"
10 June 2021
In celebration of the Duke of Edinburgh Scheme
On what would have been the Duke of Edinburgh's 100th birthday, take a look at PSC intern Louisa's article on the #DofE Scheme we offer below.
The scheme, introduced in 1956, is aimed at helping young people develop themselves by learning new skills, taking part in physical activity, volunteering for community and working in a team.
Here is an image of the Duke's visit to the College in the 70s, where he met with around 250 students taking part in the scheme.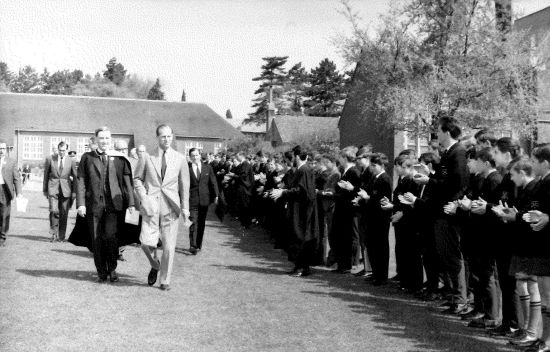 Interview by Journalism Intern Louisa Philips
Last week I chatted with Patrick Dolan, one of PSC's Duke of Edinburgh leaders here at Peter Symonds, to find out the impact of the Duke of Edinburgh Award Scheme and the gifts Prince Phillip gave to young people nationally.
1. Can you explain for those who don't know about the Duke of Edinburgh scheme and Prince Philip's involvement?
Following on from his experience at Gordonstoun, HRH Prince Philip, the Duke of Edinburgh, set up his award 65 years ago to help young people, regardless of background, to develop themselves by learning new skills, taking part in physical activity, volunteering for community and working in a team to complete camping expeditions. He continued to support the award by attending celebrations which included presentations to gold award participants at the palace.

2. How do you think it has benefited young people across the country?
Thousands, indeed hundreds of thousands of young people across the country and the world have taken part in one or more of the different DofE awards, bronze, silver or gold, with many achieving all three. For many they have gained confidence in themselves and developed life time skills that they perhaps may not otherwise have achieved. For some it has been life changing, enabling them to take up a career that they thought not possible.
3. Sadly, the Duke has passed away this year but will be remembered in many ways. How do you think this will impact the award in the future, and how do you think the award will adapt in the future to new opportunities and challenges?
The Duke of Edinburgh award will continue, and no doubt be spurred on by his recent death. The past year or so has been challenging for DofE as expeditions have been on hold and it has been difficult to complete some activities. The award adapted with it's #DofEWithADifference programme that allowed local non-camping expeditions, even for the gold award where participants normally camp in wild country, along with changes to activities. HRH Prince Edward, Earl of Wessex, spends a considerable amount of time supporting the award, helping his father with presentations. He travelled the country for the DofE's 60th Anniversary and we hosted the Hampshire celebration at Peter Symonds College. Prince Philip would be pleased that we are celebrating the award today. We have 7 gold groups and 3 silver groups from the upper 6 completing the South Downs Way challenge, 100 km and 100 miles, respectively.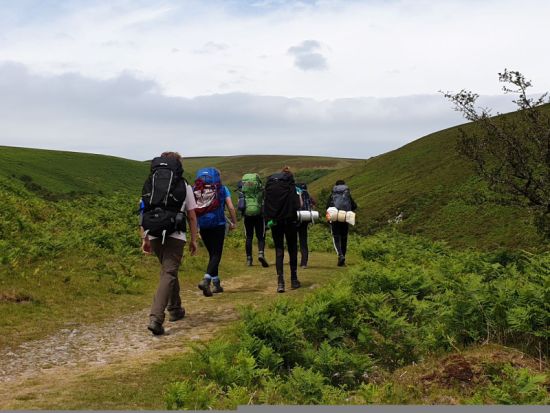 25 May 2021
College theatre company goes virtual
Peter Symonds College's student-led theatre troupe, A Company of Fools, is launching its first virtual performance on 28 May. The production will be 'The Rule of Three.'
'The Rule of Three' is a collection of three short pieces, two of which are short plays by Agatha Christie, 'The Patient' and 'The Rats', along with a short film called 'When the Curtain Fell,' highlighting the importance of protecting the arts after COVID-19.
The performance will take place after exams and once the show goes live on 28 May patrons can watch the show at a time that suits them best. The link to book tickets is www.psc.ac.uk/cof
The production has been completely student-led, from choosing the plays, running auditions and designing the set to choosing costumes and props and scheduling rehearsals. Artistic Director Libby Rhodes and Creative Director Sam Hunt came up with the idea of including 'When The Curtain Fell' which gives an insight into the power of the arts and they will also be filming and editing the performances themselves.
Libby said 'All of the Cast and Creatives have a passion for the arts and love the theatre. Many of them are hoping to go on to Drama School and pursue a career in the theatre so this has been an excellent opportunity for them to gain experience and work alongside other talented creatives! It's also a great opportunity to grow in confidence and make friends for life.
Talking about some of the challenges the production has faced she said, 'We started auditioning nearly one hundred students in September and were hoping to perform to a live audience in December however, due to COVID-19 we will now be filming the performances and putting them online.
'It has been incredible to witness the dedication, commitment and enthusiasm of all the Casts and Creatives, especially considering the challenging circumstances. Everyone has remained passionate and creative during rehearsals both online and in person and have worked hard to put on two fabulous performances. We have all had to be very adaptable and focused and I am very proud of how understanding and motivated everyone has been throughout the entire process.'
This is the first time ever that A Company of Fools have produced a virtual production. Tickets are available from www.psc.ac.uk/cof. Tickets are free but Company of Fools would be delighted to receive donations to www.ActingforOthers.co.uk, a charity providing financial and emotional support to creative professionals who have been hit hard by the effects of the pandemic. The performances will go live on Friday, 28 May 2021 and can be watched at a time that suits you best.
23 April 2021
College shortlisted for Tes Awards 2021
Peter Symonds College is celebrating after being shortlisted for the Sixth Form College of the Year in the 2021 Tes FE Awards, which recognises the most outstanding individuals and institutions that the further education sector has to offer.
Peter Symonds Principal Sara Russell said, 'Just to be shortlisted for a Tes Award is an incredible achievement and reflects the hard work and dedication of our staff, who have continued to deliver outstanding teaching and academic and pastoral support to our students during what has been an incredibly challenging period.'
Sara added, 'I'm thrilled that these efforts have been recognised nationally.'
Peter Symonds College's submission for College of the Year Award focused the quality of the support available for students, including details of the Hub, the College's initiative to support students' mental health and wellbeing.
The submission also highlighted the College's exceptional Enrichment programme, which offers students a range of over 170 activities to choose from, and the remarkable outcomes for young people at the College, from high retention rates and better than expected grades through to progression to top Oxbridge colleges, Russell Group universities and prestigious music conservatoires.
Tes head of FE Julia Belgutay said: 'Further education providers have excelled in what has been a truly challenging year, and the amazing individuals, teams and institutions on our Tes FE Awards shortlist showcase that. Our judges were highly impressed with the calibre of entries and I want to congratulate everyone who has made the shortlist – it is a brilliant achievement.'
Winners will be announced during a virtual awards ceremony on Friday 28 May 2021.
25 June 2021
A Dyslexic's Journey
A student has created a film describing her journey with dyslexia - read more about her experience in her own words:
Throughout my life, dyslexia was the name of an invisible force that held me back. I was intent on developing an animation to help the viewer understand what it feels like to have dyslexia.
When I was younger, I was aware I was different. It was apparently so easy for my classmates to understand reading and spelling. But no matter how hard I tried, the gap between me and my classmates grew larger.
Dyslexia was an obstacle course in my childhood that I had to navigate every day. I remember wondering why I needed extra support, why words were black sticks on white paper to me, why everything was so hard. I had all these ideas in my head for stories and I couldn't get them on paper. Maths was beyond me; no matter how hard I tried I couldn't understand the basics.
My family and teachers were very aware of my challenges and it became their biggest fear and concern for me. I saw an Educational Psychologist (EP), who gave me tests which led to a diagnosis of Dyslexia. Giving my challenges a name helped me and my teachers find a path through my problems. But having the name also affected the way I saw myself. It took so much effort to decode the letters that the meaning of the words would escape me. I had so much focus on decoding and extra help that the joy of reading was lost on me and it's something I struggle with still.
I fell behind with my schoolwork no matter how hard I tried. I would give it everything I could and fail. One of my teachers said she didn't worry about dyslexia as much as the legacy of comparing yourself to others at a young age and finding you are less.
The animation is based on a moment that had a huge impact on me. It made me understand that everything will be ok: I'll be ok. My grandparents came to visit with a present: a vibrant red kite. My siblings and I raced out into the garden, and I watched my father and grandfather try to make it fly. One hour passed, and then two. Although they were doing the right things, the kite kept falling. They decided to save it for another day.
I asked my grandfather if I could try one last time. Everyone thought it would be hard for me. But he said: "Sure, let's give it a go." My grandfather held the kite steady, I took a deep breath, and I ran with all my heart. It struggled at first but I didn't stop. I didn't look back; only forward. I heard everyone cheering around me and looked up. The kite floated in the air perfectly.
Now, it's easier for me to navigate my dyslexia. I've learned how to manage it and even make it into an advantage which I never thought could happen. Dyslexia gives me a different point of view. I have a lot of empathy for people who struggle in any way, not just because of dyslexia, but because I know what that's like. I feel I see the world creatively because my dyslexia gives me a different perspective. A good eye for filming, photography and a passion for design are the result of how I see the world, and I have to give some of the credit for that to dyslexia, too. I also find it easy to collaborate and ask for help because that is the only way I powered through my problems.
Throughout my whole life, dyslexia held me back, but the older I have gotten I've realised that dyslexia does not stop me. I've learned it's people's opinions of my dyslexia that have stopped me.
When I look back on the day when I flew the kite and no one thought I could, I realise that there is a cure for dyslexia: your drive. If I run fast enough and try hard enough, I can make everything fly. I wanted to create an animation that takes a viewer on that journey.