15 December 2021
Marchant back at PSC!
PSC Journalist Intern Louisa Philips reports on alumnus and professional rugby player Joe Marchant's recent visit to Peter Symonds.
On a chilly Monday afternoon, the PSC rugby squads gathered together to meet an esteemed alumni of the college. Joe Marchant, Harlequins centre and an England wing, spoke to our students and staff about his experiences being a professional rugby player at such a young age, and answered questions from the audience about his professional career and rugby ambitions.
Questions about Joe Marler, his teammate and friend; Mike Marchant (Joe's father) versus Eddie Jones; and who can bench the most on the team (also Joe Marler) were a light-hearted start to the session. When reflecting on his Harlequin season, however, Joe described how the players themselves took the responsibility to train and up their game, to the point where the other teams couldn't keep up. Even when the pandemic struck, momentum slipped and fans were lost, training and perseverance were still present even when in quarantine.
This perseverance and drive were common themes throughout the talk, as Joe described how you have good days and bad days, in rugby and in life. What is needed is the assurance that you are here for a reason, and to trust that "rewards will come". But he also urged that learning to relax and managing excitement also is a key factor to cope and maintain a healthy mindset. Playing the guitar and chilling are his pre-game routines, effective at "getting rugby out of his head".
As a previous student, Joe enjoyed the independence of Peter Symonds and the self-reliance it gave him. He learnt to manage his time effectively as a young person, who was studying and training around the country daily. However, he also emphasised the enjoyment of playing rugby here at Symonds, and the coming together of previous competitors to play on one team was a big factor in that. Joe's time at Symonds also showcases the support our college offers to young people who are undertaking high levels of sport or any activity, to pursue their dreams whilst also achieving an excellent education.
Both the Men's Captain and Women's Manager also agreed that Joe's story gave an insight into what it takes to be a professional rugby player, who still achieved his college goals. As the evening drew to a close, Joe presented the college with his own England rugby shirt, a reminder of the great things one can achieve with drive to achieve their aspirations, overcoming setbacks and taking every opportunity.
8 September 2021
College takes first steps towards becoming an All Steinway School
Music Department staff and students at Peter Symonds College were delighted to take delivery of a brand-new Steinway Model B grand piano and four upright pianos as part of the College's ambition to become an All Steinway School.
Following a donation from the Mercers Company the College has purchased a new Steinway Model B grand piano and four new upright Steinway pianos to replace some of the older pianos in the Music Department. Dr Samantha Carrasco, Head of Keyboard at the College, has been spearheading the project for some time.
With the arrival of the new pianos Peter Symonds College is eligible to join the Steinway Initiative with a view to becoming an All Steinway School in the future. If this ambition is achieved Peter Symonds will be the first state school in the country to become an All Steinway School.
The new pianos were unveiled at a special concert featuring Peter Symonds music students Zosia Pilsworth, Hanna Csermely, Archie McMorran and Archie Thornton, who played a range of pieces accompanied by Dr Carrasco.
Student performer Hanna Csermely commented, "Steinway pianos allow students to develop certain aspects of their playing better than on other pianos – for example, a larger tonal variety allows you to really work on bringing out the different tonal colours of a piece.
"This initiative is really exciting for Music students at the College," Hanna continued. "You usually see pianos of this high quality at conservatoires and private institutions so it will open so many doors for students at Peter Symonds, offering opportunities they wouldn't get elsewhere."
Dr Samantha Carrasco said, "The new Steinway pianos will be a fantastic addition to the Music Department offering even more musical and performance opportunities for our talented students whilst upgrading our practice facilities.
"We are really excited to be joining the Steinway Initiative and the new pianos will make an enormous difference for the students," she added. "The success of the recent Steinway celebration concert highlighted the dedication and skill of the pianists at Peter Symonds College."
As an All Steinway School pupils will perform on Steinway instruments and have regular masterclasses with Steinway artists and the opportunity to perform in the recital space at London's Steinway Hall. The arrival of the five pianos was marked by a world premiere and recording of a piece entitled Lockdown Reflections by student Archie McMorran, who is going to study composition at Trinity Laban next year.
World-renowned jazz pianist composer, broadcaster and author Julian Joseph also attended the concert, having previously accompanied College Principal Sara Russell and Dr Carrasco to the Steinway showrooms in London to help them select the new grand piano.
Mr Joseph said, "The pianists in the Peter Symonds music programme gave confident and exuberant performances supported by their excellent teachers for the most positive way to start the new term, uplifted by the beautiful brand-new Steinway piano acquired by the college. It was such a pleasure and joy to listen, enjoy and experience live music again in this environment of excellence."
Head of Music Rachel Platt concluded "This is an amazing opportunity for our pianists. Dr Carrasco's ambition, enthusiasm and inspiring teaching has made this project possible. We are immensely privileged to have the guidance of Julian Joseph and grateful to the Mercers for their financial support and our Principal Sara Russell for helping to drive the project through. We are incredibly thankful to Steinway for every opportunity they have made available to us, all of which will be a superb legacy for our students for many years to come."
Please click on the link below to watch a short video with more information on the College's Steinway School intiative.
23 September 2021
Peter Symonds students celebrate a year of achievements with Tokyo 2020 Olympian
Peter Symonds College was delighted to be able to return to a live ceremony for its annual Awards Evening, celebrating the academic and personal achievements of the 2021 cohort as they faced the challenges of the pandemic.
Students and their families were joined by guest speaker Tanya Watson, recently returned from competing at the Tokyo Olympic Games; sponsors from local businesses and universities; and teachers and governors to celebrate their successes.
More than 80 students received awards for a range of attributes, from academic excellence to participation in college life, contribution to the community and overcoming challenging personal circumstances.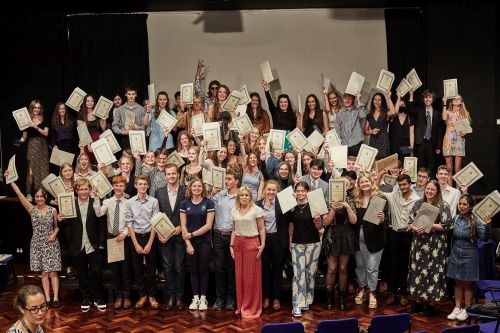 Chair of Governors Tim Rogerson welcomed the audience to the College and praised the efforts of students of 2019-2021 and the staff who had supported them. Principal Sara Russell then addressed students, noting the tremendous challenges they had faced during the pandemic. Sara praised not only their impressive achievements but also their resilience and focus during remote learning throughout the various lockdowns, saying, "Thank you once again for your positive can-do approach to the changing restrictions placed on you, for your continued zest for learning and for your refusal to give up. Your journey has been more extraordinary than most and I hope you will look back on your time at Symonds fondly."
Guest speaker and recent alumni Tanya Watson took to the stage to congratulate students and talk about her experiences competing at the Tokyo Olympics in August. Tanya attended Peter Symonds College from 2018-2020, studying Chemistry, Maths and Further Maths alongside training 18-20 hours per week in Southampton as a 10m platform diver. She has travelled widely around the world to take part in diving competitions and won a place at the Tokyo Olympics, representing Ireland in the Women's 10m Platform. Tanya is the first female Irish diver to qualify for the Olympics and reached the semi-finals of the 10m platform event.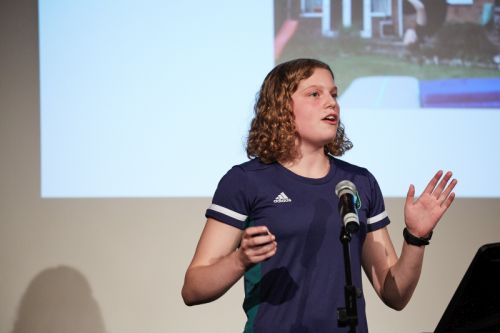 Talking about her time at Peter Symonds, Tanya said, "Balancing college work and diving training was a big challenge as an elite athlete. Time management was very important. This involved asking teachers lots of questions when I didn't understand because of the limited time I had to study outside college. I asked for help to fit my timetable around training and got permission to leave early from class sometimes to get to training on time. Overall, it was helpful to plan out my week well."
Tanya's advice on how to keep focused under pressure was equally pertinent whether competing on the world stage or facing the challenges of education and a pandemic. She said, "A sense of perspective helped – my performance on one day didn't define me as a person or reflect all my achievements. I thought about all the sacrifices I had made and focused on the things I could control."
In conclusion, Tanya said, "From both experiences – going to the Olympics and going through college – the main thing I learnt is that asking for help when you need it is key. An athlete is always part of a bigger support team."
She added, "No matter what the result, it is common to feel a bit confused when you have achieved your biggest dream. I learnt to make sure to have plans for after a big event so that you have a separate focus, for example, your next steps or a new beginning – university in my case. And, most importantly, enjoy the moment!"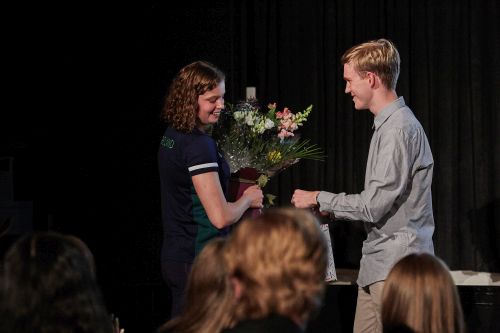 10 December 2021
College Carol Service returns to Cathedral
Music students from Peter Symonds College are celebrating the return of the College's annual Carol Service, recently held in Winchester Cathedral for the first time in nearly two years.
The service featured traditional congregational carols and seasonal music performed by College Brass, College Choir, Kelso Choir and an 8-voice vocal ensemble, including several beautiful solos from students Dhanya Ebenezer, Elena Strachan, Daniel Simijoki, Evelyn Byford and Verity Sawbridge.
Principal Sara Russell and students Japheth Harris, Chloe Robertson, Max Tilden, Claire Stuart and Maisey Rowles delivered readings throughout the service. Prayers were said by Canon Roland Riem, Vice-Dean and Canon Chancellor and College Chaplain Reverend Mary Copping.
Students were delighted this year's Carol Service was able to take place, with Music student Theo Joly saying: "Performing live is an incredible feeling, nothing beats live music and the atmosphere it creates. To be back after such a long couple of years after Covid is fantastic and performing at the Cathedral is a unique opportunity."
Maya Chakraborty agreed, adding, "It's really nice to be performing live again because we've missed out on so much during Covid. Performing at Winchester Cathedral is amazing. There's nothing else that can replicate this experience, it has great acoustics and is beautiful."
Head of Music Rachel Platt said: "It's very important for our students to have these opportunities to perform to ensure they develop as musicians. We are grateful to the Cathedral for their help and support enabling this year's Carol Service to go ahead, as it is always a highlight of the College year and a wonderful experience for our students who gain so much from it. The students delivered a delightful and moving event and we are very proud of them."
Open to members of the public, the Carol Service won praise from a number of attendees, with audience member Claire Bartolini commenting, "An absolutely beautiful service, I loved listening to the various vocal ensembles and the brass ensemble."
Every year a retiring collection is held for a local charity. This year's charity was the Winchester Beacon, formerly Winchester Churches' Nightshelter, which has been providing vital and safe accommodation to people experiencing homelessness in Hampshire for over 30 years. Please visit wcns.org.uk if you would like to find out more about how to support the Winchester Beacon and the important work they undertake.
2 December 2021
Happy Hanukkah
As part of the College's Hanukkah celebrations, PSC Journalist Intern Emily Henson caught up with stduent Yael-Louise Dekel to talk about her experiences with Hanukkah and what it means to her.
Hanukkah is a Jewish festival that occurs around late November to December and lasts for
eight days and nights. This year, it falls from the 28th of November to the 6th of December
and the dates change each year due to them being based on a lunisolar calendar, rather
than the Gregorian one. In Hebrew, it is know as חֲנֻ כָּה , which is most commonly translated as
Hanukkah or Chanukah, and means 'dedication' in reference to the rededication of the
Temple.
The festival commemorates when, after being persecuted by the Greeks, a Jewish group
rebelled. They took back their Temple and rededicated it, but they only had enough oil to
burn the menorah for one day, however the candles burnt for eight days. This is celebrated
by lighting the menorah each night of Hanukkah, adding one candle a day, and placing it in a
window or doorframe.
Traditionally a minor holiday, Hanukkah has gained more prominence in western counties
due to its proximity to Christmas, especially in places like America with large Jewish
populations. New York houses two menorahs that have both claimed to be the 'world's
largest' and they are both lit before crowds. In the UK, one of the biggest events is in
Trafalgar Square where a giant menorah is lit, but most people celebrate at home with their
families.
What traditions beyond the Menorah do you do during Hanukkah with your
community or family?
In the city I live in, there's no proper Jewish community. To still get involved, when I was in
primary school my dad would throw parties centred around different Jewish holidays. I would
invite my (non Jewish) friends from school over, my parents would teach them the stories
and we would do different activities based around the holidays. We also eat lots of oily foods
(e.g. donuts and latkes) and play games with chocolate coins and spinning toys.
What meaning and significance does Hanukkah have to you?
Like many Jewish stories, Hanukkah is about Jewish persecution. Growing up, constantly
hearing stories about your people being enslaved or oppressed was really depressing. When
I got older though I realised that the focus wasn't on us being enslaved, but that no matter
what happened to us we're able to overcome it and Hanukkah really reminds me of that key
message. The holiday reminds me of the strength of my people, how we've been through so
much yet are still able to thrive.
It's just a very fun holiday with the donuts and dreidels. I like the songs and there's
something magical in seeing all of the candles lit. It's also a nice time to be with family.
Do you think other people are aware of Hanukkah and its history?
In all my years at primary school I only remember having one twenty minute lesson on
Judaism. However, despite that, I do think that Hanukkah is one of the most well-known
Jewish holidays.
Do any Hanukkah celebrations affect life at college?
Hanukkah is celebrated at home so it doesn't interfere with college. Saying that though,
events celebrated after sunset (particularly Shabbat) I can't do. Normally I would try and light
candles just after sunset on Friday evening (start of Shabbat), but my lesson finishes at 4:40
and now in the winter months it gets darker quicker so I always miss the start. It's annoying,
but I can't do much about it. It'll be easier in the summer when the sun sets late.
Thank you to Yael-Louise for her insights.
As part of our Hanukkah celebrations in college, there is an LED menorah by Student
Services, which students can visit to learn more about the holiday. We wish everybody
celebrating a very happy Hanukkah.
19 October 2021
Top 10 finish in the BHF and Imperial College 'Science at Heart' Competition for Future Medics
Six Peter Symonds College students are celebrating a top 10 finish in the British Heart Foundation and Imperial College 'Science at Heart' Poster Competition.
Teams of up to six students were invited to design an ePoster to illustrate a strategy for bringing hard sciences and biomedicine together to reduce the number of deaths and disabilities caused by heart and circulatory disease.
Upper Sixth students Emily Weeks, Ariyan Hoque, Tom Bowyer, Maisie Sheffield, Lottie Hatherell and Nandana Rajeev took part in the competition launched by the BHF Centre of Research Excellence at Imperial College London which aimed to engage sixth form students with cardiovascular research.
The Peter Symonds students created the poster in the summer of 2021 and were then selected to give an online presentation, after being placed in the top 10 out of nearly 50 competitors. The team were congratulated for their contribution by Professor Dorian Haskard at Imperial College.
All six students from Peter Symonds also run the college's biggest student-led enrichment activity, 'Future Medics', designed to prepare, support and encourage students aiming to study medicine at university.
Speaking about the experience, student Ariyan Hoque said "It was a great activity to do together as a team, given that we would need to work together to run Future Medics this term."
Maisie Sheffield added, 'It gave us a great insight in the process of carrying out research and will be really beneficial when we move on to study at university."
4 November 2021
Happy Diwali!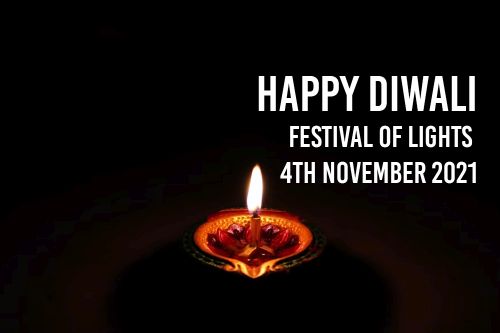 Diwali this year is being celebrated on the 4th November by millions of Sikhs, Hindus and Jains around the world. In essence it is a celebration of the triumph of good over evil and light over darkness and each religion marks different historical events and stories. It is observed through the lighting of diyas (small earthenware lamps filled with oil) which are placed around the home and in temples whilst some may adorn their homes with rangoli, consisting of elaborate designs made of coloured rice, sand or flower petals.
HINDUISM AND THE MEANING OF DIWALI
Hindus celebrate Diwali over 5 days and each day is marked by different events. It celebrates the royal homecoming of Lord Rama (along with Sita, Lakshmana and Hanuman) to the city of Ayodhya after defeating Lord Ravana, the 10-headed king of the demons after a 14-year exile. It marks the awakening of good over evil, the victory of light over darkness and knowledge over ignorance. Hindus also celebrate the day as when Mother Goddess Durga destroyed a demon called Mahisha. During the 5 days, Lakshmi (goddess of wealth) will be the focus of worship to seek blessings for wealth and prosperity with families exchanging gifts, feasting, wearing new clothes and going to the mandir for prayer.
SOURCE: https://www.britannica.com/topic/Diwali-Hindu-festival
SIKHISM AND THE MEANING OF DIWALI – BANDI CHHOR DIWAS (Prisoner Release Day)
Sikhs celebrate Bandi Chhor Diwas as this is the occasion of the return of the sixth Guru, Guru Hargobind Singh Ji, who was freed from imprisonment in 1619. When he was granted release from prison, he refused to leave until 52 Hindu political prisoners were also released by Emperor Jahangir. The Emperor agreed as long as they could hold onto Guruji's robe. So Guruji had a robe made with 52 tails, allowing all of the political prisoners to leave with him. When Guruji and the released prisoners arrived home to Amritsar it coincided with the Hindu festival of Diwali which has resulted in a similarity of celebrations amongst Sikhs and Hindus. It is a time for Sikhs to celebrate a time when 'right' prevailed over 'wrong' as many of the political prisoners at the time had been held without trial, jailed by brutal force and held against their wishes. Sikhs will go to the gurdwara and remember Guruji through prayer and meditation. They will also light divas and set off fireworks which is the traditional manner of celebrating the 'Festival of Lights'.
SOURCE: https://www.sikhpa.com/thesikhdiwali/
JAINISM AND DIWALI
For the Jain community, the festival commemorates the enlightenment and final liberation (moksha) of Mahavira, the most recent of the Jain Tirthankaras, from the cycle of life and death (samsara). The lighting of the lamps celebrates the light of Mahavira's holy knowledge. Diwali marks the start of a New Year for Jains and they will decorate with lights and diyas as they are symbolic of knowledge and removal of ignorance. Some Jains will observe fasting and devotees will chant prayers and mantras to pray to Mahavira.
SOURCE: https://mythgyaan.com/diwali-jainism/