Types of Course
Level 3 Courses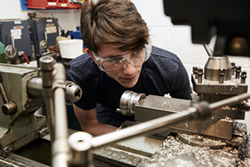 The majority of students who come to the College enrol on Level 3 Courses. Some will choose A levels, some will choose a BTEC or Cambridge Technical route but a number of students opt for a combination of both A levels and BTECs/Cambridge Technicals for their programme of study.
A Levels (Advanced)
We are lucky at the College to be able to offer 44 subjects at A level (or equivalent). A levels are studied over a two year period and assessment is by examinations at the end of the two years. Coursework or practical examination also form part of the assessment on some courses. Our standard A level programme is three subjects but there is an option to study four full A levels for keen and capable students. A levels require rigorous academic study demanding extra reading and research outside of lessons.

BTEC & Cambridge Technical Qualifications (Vocational)
These courses have been a growth area for the college and offer alternatives to more traditional A levels. We currently offer courses in 8 different subject areas. The courses are valued and well regarded by both employers and higher education establishments. They provide a practical, real-world approach to learning without sacrificing any of the essential subject theory. Most of the assessment on these courses is through coursework, taking away some of the pressure of examinations and allowing students to gauge their own performance on a continuing basis, as they might in a real workplace.
Level 2 Courses
These courses are designed for students who did not quite reach the standard GCSE entry requirements to move onto a Level 3 course. This also may apply to sudents who have not had the chance to study GCSEs, perhaps as a consequence of living overseas.
We have a number of level 2 courses to choose from but all students must be studying for their GCSE in Maths and English if they haven't already achieved it. We hope to design a programme of study that will suit you and to help you gain further qualifications to move on to the next stage of study or training.
Subjects include: English, Maths, Business Studies, Tourism, Media Studies and Information Technology
Our level two programme includes a one-week work experience placement.