Black History Month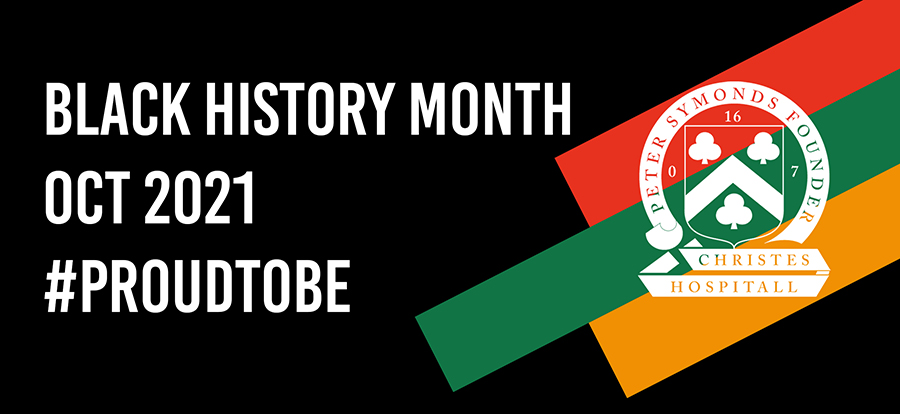 Below you will find a number of events and activities that are being run around college to celebrate Black History Month this October. Alongside these events we strongly believe that discussions around black culture, history and perspectives are important all year long, and not just this month, to ensure that Peter Symonds is a welcoming, diverse and supportive community. We will be looking to create a catalogue of events and talks throughout the year, in conjunction with students and student groups, such as the African-Caribbean society, to celebrate black culture and history.
#Proudtobe quote and fact walk
The #proudtobe quote and fact walk can be found on pathways all around campus.The quotes were submitted by PSC students who are part of the black community after they were asked what made them proud to be black. These quotes are interspersed with facts about black history - focussing heavily on British history as it is so often overlooked in favour of American history.
This is an ever growing installation with more quotes and facts being added as the month progresses.
Pan African Flag Lighting Installation
We are lighting up the Paul Woodhouse and Ashurst buildings with the colours representing the Pan-African flag to highlight Black History Month. The Pan-African Flag was designed in 1920 to help create a sense of community and unification for those individuals who belong to the African Diaspora regardless of where they are in the world.
The colours represent:
Red: the blood that unites all people of Black African ancestry, and shed for liberation.
Black: all of the individuals across the world who are part of this community and cultural heritage.
Green: the abundant and vibrant natural wealth of Africa.
Media Posters - Educate, Watch, Listen
These posters can be found around college on doors and entrance ways - they show different resources to help students educate themselves on black history, including films or TV shows that focus on stories told from a black cultural perspective and music made by black artists.
BBC Future Figures
A display of profiles showing notable individuals, groups and organisations from across the UK, who are 'Making Black History Now' in a broad range of fields including STEM, the arts, media, activism and music. These profiles highlight how these individuals are impacting on British society at large, as well as making waves within the black community.
Paris is Burning screening
The GSA arranged a screening of Paris Is Burning, a 1990 American documentary film directed by Jennie Livingston. Filmed in the mid-to-late 1980s, it chronicles the ball culture of New York City and the African-American, Latino, gay, and transgender communities involved in it. Critics consider the film to be an invaluable documentary of the end of the "Golden Age" of New York City drag balls, and a thoughtful exploration of race, class, gender, and sexuality in America.
The documentary is a fascinating expose on the ways in which this very marginalised community has had long standing impacts on pop culture around the world, from the introduction of the dance style 'Voguing' to language that we use in everyday life today.
LRC Displays and Resources
The Library team has collated a virtual display that highlights some of the resources around racism, Black Britain, and Black culture/contributions to popular culture that can be found in Ashurst. They have also collated a number of books or resources that are available through the library related to Black History Month and Black Culture.
External online events
Below you will find a number of events that are being hosted online by external providers. We have purposefully selected events that are free to join. These events represent a mere fraction of the available online resources that can be found and accessed throughout the month.
Black History Month Lunchtime Talks - Run by Scottish Graduate Schools of Social Science (SGSSS): 1,10-2pm selected days throughout October
Nike 'Adire Queen' - The Power of African Art - Run by Royal Borough Of Kensington And Chelsea Libraries: 6.30pm Wednesday 14 October
Black History Year: George The Poet - Run by University of Westminster: 6.30pm Tuesday 19 October
Black History Month: 'Proud To Be…' - Run by Inclusive Companies: 10am Wednesday 27 October
Black History Month Conversation 2021 - Run by Black Country Healthcare NHS Foundation Trust: 10am Thursday 28 October